Happy Thursday! Today is a rest day from running so I started my morning with a 2 mile walk. It was nice
Breakfast was a scramble with toast. I want to eat this again for lunch.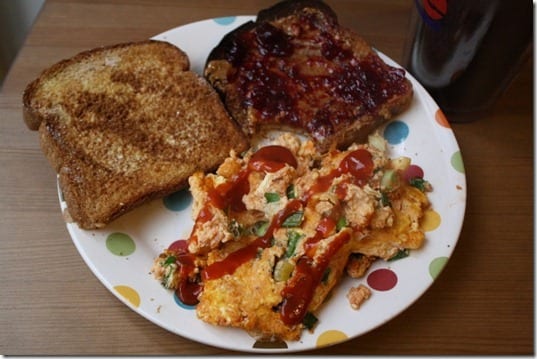 I was going to hit up the gym for a strength workout, but I've decided I should really just get to yoga today (the sooner the better!).
So, I just chomped an apple and some cashews to hold me over until lunch and I'm headed for some "Om" time.
Winner of the Sambazon drinks is: Andrea! (I've emailed her.)
I found this article "The Problem With Health Food"  by Barbara Damrosch yesterday and loved this little snippet:
Health food these days tends to define itself by prohibitions, including those that should apply only to people with genuine food sensitivities. Gluten, lactose and salt are treated like poisons. Fat is the road to hell, and red meat is the road to the grave, even if it's from a happy, local, organic, grass-fed, free-range, hormone- and antibiotic-free animal, a distinction that eludes the fervently herbivorous. Asian food is prominent on health menus because anything Western in the world of alternative lifestyles is disdained.
I think it's so true that many things are labeled by what they're NOT these days. And certain foods are viewed as poisons or evil. While I am working on cutting out sugar I don't want it to seem like I think it's poison. It's a trigger food for ME and I'm working on setting up a detox. But in the long term, I want balance not extremes.
I am going to yoga! See ya later
Run SMART Goals
Fill out this form to get the SMART Running Goals worksheet to your inbox!