Yesterday I walked to work for my afternoon shift (it's 1.6 miles one way). But, I ended up calling Ben to pick me up because the sky looked angry.
He showed up with a Chik-fil-A meal – complete with a vanilla shake. I stole a few sips just in case it was poison I don't want to be left alone in this world…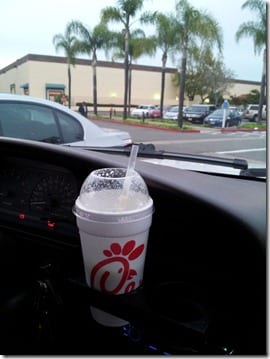 One of the other personal trainers at my gym also works at Godiva. How's that for a conflict of interest? She brought a big bag of chocolates to share and I grabbed a few dark chocolate truffles.
I switched my dinner to before work and came home to a bowl of cereal eaten at 7:45pm (it was going to be my afternoon snack) – that was a close cut off for my no eating after 8pm rule! (The point of that rule is to eliminate night time snacking, not to deny yourself if you're hungry.)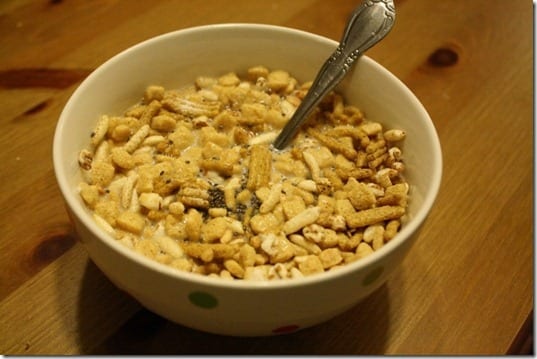 I also had one Godiva chocolate and lots o' water to fill me up.
For the record – I had 1 bowl. That's amazing.
Nothing Ate friends – How did you do with nighttime eating last night?
This morning the cat woke us up at 5:30am. Fighting. He's bad.
So, I got up and reluctantly got ready to run 6 miles. I woke up super Hungry again (my body is really used to the night time eating thing!) and thought about food the whole run.
Run (while thinking about what to) Eat Repeat
I had watermelon while cooking up eggs and toast.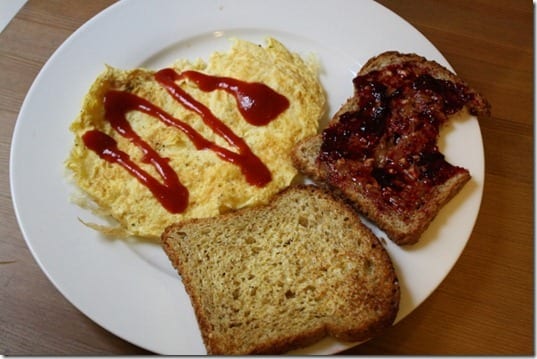 This just in: I will be running 2 half marathons in 2 days first weekend of June! So, no more phoning it in runs. I'm going to get back to my training program and bite the bullet and sign up for an August full mary.
Question: Favorite shake flavor?
I'm going with strawberry.
Run SMART Goals
Fill out this form to get the SMART Running Goals worksheet to your inbox!