I haven't been writing down my eats in my Fitbook (because I hate it), but when I do I realize I snack and snack and snack and snack. All fcking day.
It's a really bad habit that I formed years ago (just like night time eating) when I was at a place where I didn't eat enough at meal times. At the time it was a way of "self care" on some level, but now it's an unnecessary, leftover scar of diets past.
Anyways, I snack.
But I'm TRYING.
I'm trying to plan filling snacks with fat and protein…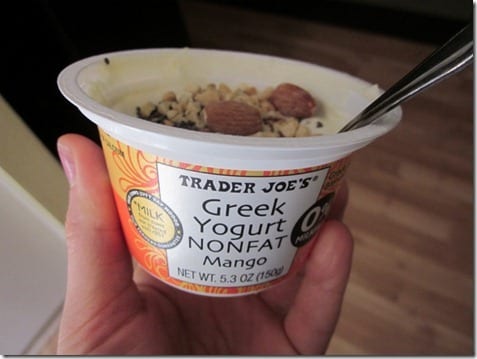 I'm trying to make sure my meals hit all the protein, carbs and fat bases.
A sweet potato and cottage cheese for lunch! (Celery on the side.)
I try to satisfy my tendency to snack with lower calorie options…
I try to be strong in the face of adversity a huge juicy hamburger.
Okay, I don't care about the burger as much as the fries. So, I prioritized and took a few.
Finally, I try to pick out all the toffee bar pieces of this Ben & Jerry's. Note: There was an entire toffee candy bar stuck in the middle of the carton!
Moral of the story is I'm trying to reach my goals one day and one habit at a time.
Ask a Monican #37
1. What do you do with fat pictures?
2. I think a trainer at the gym said something inappropriate. What should I do?
3. How do I beat boredom when I run?
Email me your questions to runeatrepeat @ gmail.com
Run SMART Goals
Fill out this form to get the SMART Running Goals worksheet to your inbox!