Since this is obviously a foot fetish blog, I thought I'd update you on my toe issues.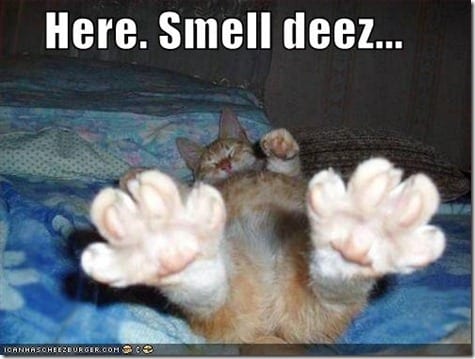 (source)
Two weeks ago I explained my symptoms – the biggest one being that it hurts to curl my second toe under.
I had the Physical Therapist / NB shoe researcher at the New Balance factory look at it when we toured the place last Thursday. He didn't really come to any conclusions, but assured me it's not a stress fracture. Basically, everyone told me, "If it hurts to curl it under…don't do that!"
Two weeks later it still hurts to curl under. It hasn't gotten any worse – even after all that relay running! But, it still worries me since running can't help the situation.
So, I'm not sure what to do next. I will give it another week and if it still hurts go to the doctor. I'm just worried that this weekends 26 miles (2 halfs = a full) is going to kill my toe and make it fall off.
I'm dumb and didn't charge either of my cool GPS watches for my run this morning. I ran 4 miles watch-less, which is a bummer because I felt strong and am curious how fast I was going.
My mom's neighbor had a few apple banana trees. They sent over a lot of them and I grabbed a BIG bunch to take home. They're like small, chubby bananas that taste a bit like apples.
Just the Tip Tuesday: I thought I would try another almond butter this week to switch things up. BAD IDEA. This is not good compared to TJ's Roasted AB with flax. Don't get this kind. <- that's my tip.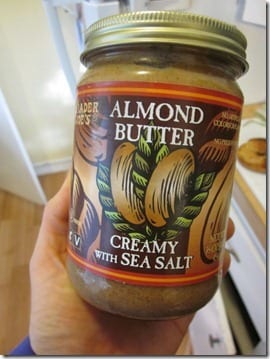 I had a Perfect 10 Bagel with PB&J. Plus iced coffee…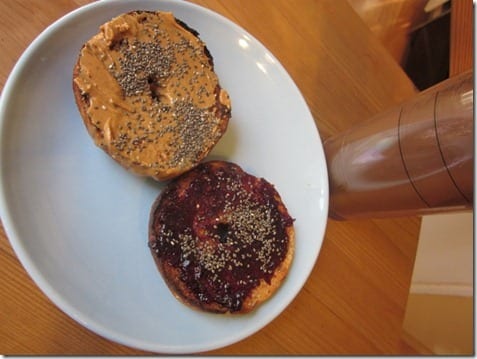 Last night I took some melatonin when I got home because I was worried about all the caffeine I had consumed.  Well, it knocked me out before I could finish watching Bethenny! I DVRd it so I have to catch up before we talk Trash TV Tues…
Question:What's your favorite nut butter?
I love TJ's Roasted AB with flax. Trust.
Run SMART Goals
Fill out this form to get the SMART Running Goals worksheet to your inbox!