I took Chandra for one last OC must do – the Tustin Whole Foods! I always appreciate the blue skies and palm trees, but it made it that much better to share it with a friend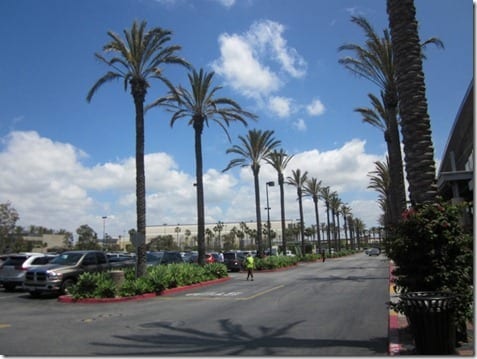 I skipped the hot foods bar in favor of some cherries and seltzer.
Then, I spent the car ride telling Chandra about how great SoCal is: Disneyland, blue skies, The Kardashians, Yogurtland on every corner….
But she's running a relay race this weekend and had to get back home to Iowa (or Idaho, either way).
Yes, for those of you who asked about it when I picked her up – the Orange County airport is called John Wayne airport.
Travel Tip if you're flying through the OC airport – there's a Pinkberry, Pei Wei and a Subway inside. You can be a healthy, happy traveler!
Speaking of traveling… This Thursday I am headed to Seattle for the Blogher Food Conference. I've been to Blogher but not Blogher Food OR Seattle so I'm super excited!
Unfortunately, because of my new job, I'm not going to be able to go on our annual trip to Marco Island Florida. It's Ben's families annual trip that they've been doing since he was a little kid. I am super sad about it because it is a blast and we only get to see his family twice a year (they live in Florida).
Here's some fun posts from last year's trip:
Don't Be Crabby You're at the Beach
Heaven-dy Two (where I ran with a  turtle)
You can read more of my Travel Adventures on my Travel Page
Ben and I are starting to talk about our annual vacation – any suggestions?!
Run SMART Goals
Fill out this form to get the SMART Running Goals worksheet to your inbox!