Happy National Chocolate Ice Cream Day!
But first, let's chat about yesterday. I had a big snacky day, which I'm not happy about. I know it was anxiety eating so I recognize the cause, I just need to work on dealing with it better.
Luckily we don't have much junk in the house so I had the last Fiber One brownie (note – those are NOT good), and the last 2 cookies.
Run: This morning I ran 7.5 miles. I was going out for 8 but when I got back near my house someone was tarring their roof and the smell was way too strong for breathing hard.
Breakfast: I bought English muffins for pizzas this week, but have been eating them for breakfast instead.
Did you know you're supposed to separate an English muffin by sticking a fork around it? This was you get all the nooks and crannies (please note I wrote "nookie" right there the first time!).
I also had a bunch of organic grapes with this…
The next episode of the Reach the Beach Relay is up! My friend the camera guy didn't put in my nervous breakdown ( think he was trying to spare me public humiliation). But, I'm kind of sad you guys don't get to see the real emotion drama of my night run
Yesterday was National Running Day…
Today is National Chocolate Ice Cream Day!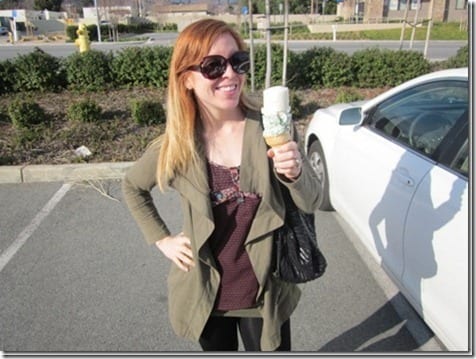 So this week literally is all about RUN
EAT (ice cream)
Repeat!
In honor of this very sacred holiday Starbucks is giving 5 lucky ice cream loving RER readers a coupon for a free pint of their Hot Chocolate Ice Cream!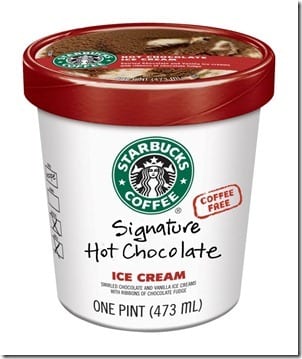 To Enter: Leave a comment with your favorite ice cream flavor. If you say vanilla you're disqualified.
Open to residents of the US. Contest closes Friday at 3pm PST. 5 winners will be chosen.
I have a full day of work and then I'm headed to Seattle for Blogher Food tonight! See ya later
Run SMART Goals
Fill out this form to get the SMART Running Goals worksheet to your inbox!