Last night I had grand plans for making a tempeh stir-fry. But, I chatted with my mom while she was making spaghetti for dinner and suddenly I had the biggest craving for pasta. (I'm easily influenced when it comes to food.)
So, I made a quick and dirty easy creamy pasta dish.
Look at this HUGE bowl of creamy pasta! But, it's a trick – the delicious spirals on a bed green beans and a chopped veggie burger (for protein). I boiled up a cup of whole wheat spirals and added 1 wedge of Laughing Cow and a handful of mozzarella for the creamy sauce.
After dinner I hit up Marshall's for a one piece bathing suit. I ended up grabbing this impulse buy at the checkout and eating them on the way home.
I was about to run to the gym for some strength this morning, but I'm pressed for time so I did 4 miles on a different loop than my usual to change it up.
The Moto was all over the place with my pace reading though. I'm not digging that.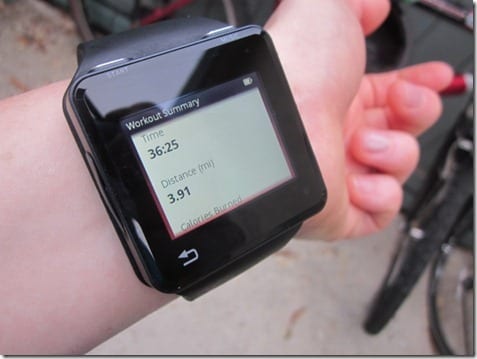 Breakfast involved another Marshall's find (I basically do all my shopping there) – Cherry Preserves. I made the conscious decision not to buy another jar of jam when I went to TJ's Sunday because I'm going through it way too fast.
Then, I realized I love jam and made the conscious decision that woman cannot live on bread and almond butter alone! We must have jam.
And it was good.
Oh! Yes, I got a swim suit. There were only 2 actual "swimmer's" suits in my size and I went with this one.
I wasn't sure at first if the USA Girl – size meant it was a "girls" not women's size? But I don't think TYR makes kids suits. Anyways, this ish is still pretty tight for being an XL. Boo.b.
Question: What color's your fave swimsuit this summer?
Run SMART Goals
Fill out this form to get the SMART Running Goals worksheet to your inbox!