On my lunch break I was out running an errand and passed by these two gorgeous girls. I stopped to ask if they'd be my fren since my bestie isn't talking to me as I forgot her b-day. Sorry Cin. IOU.
They said, "NO." Lucky for me I'm bigger than them and was able to crash their walking party by intimidation.
We busted out a 4 mile walk and quickly parted ways.
Great to see ya Skinny Runner and Katie!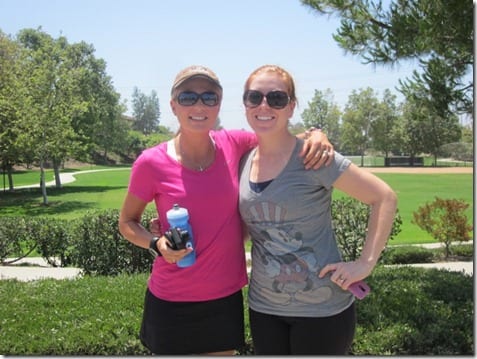 When I got home I was desperate for cereal so I compromised by crumbling a rice cake, sprinkling it with stevia and pouring on some milk. It was delish so I went back for more. Genius or desperate binge eater – you decide.
Yesterday's pasta craving pushed my dinner idea to today.
This is a meal completely created by Trader Joes food. The main players were Organic 3 grain tempeh and Sesame Soy Ginger dressing
If you don't like tofu you might still like tempeh – it's completely different. This is a crunchier, crumbly, nutty meat sub.
I cooked up some onions, garlic and broccoli first.
Then, chopped the tempeh into bite sized pieces. Tempeh is precooked so it doesn't require the same amount of time as animal protein or bigger veggies.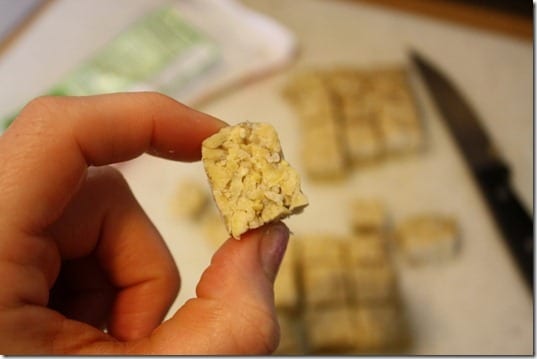 I added it to the hot pan and poured a ton of dressing on top.  I also added a big squirt of Sriracha, soy sauce and maple syrup.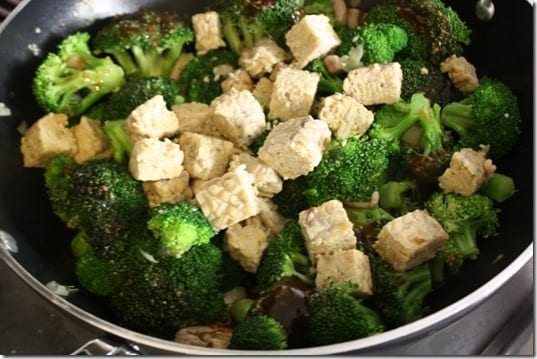 Served over TJ's brown rice (from the freezer section).
Done in less than 20 minutes. JustLikeILikeIt
Dessert… I am considering making the three ingredient PB cookies Tina made yesterday, but I have a feeling I'll just eat all the dough. I might just enjoy the rest of the Fran's bar instead.
Or both.
Run SMART Goals
Fill out this form to get the SMART Running Goals worksheet to your inbox!