Hello! How's your Friday going?!
I forgot 2 Fun Friday things I wanted to post, so I added them to this post. I'm having a forgetful week, tell you about it later.
Lunch featured one of my favorite meatless options – Quorn.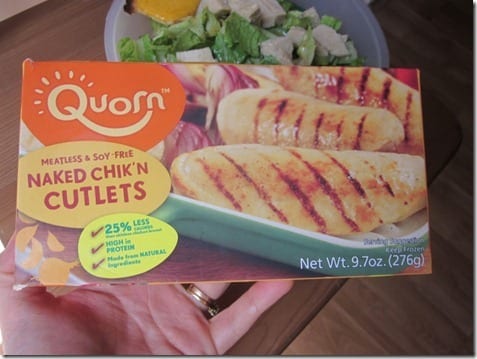 They're expensive, but I've decided to add 2 more goals to my 2012 Resolutions:
1. Get back to a more vegetarian lifestyle (I've been really bad about buying ethically raised meat to the point that Ben has even pointed it out. But I'm not making any hard & fast rules right now.)
2. Do a plank a day (I haven't done abs in over a month and my ribs hurt after my last mary because my core was too weak.)
Anyways, they're worth it every now and then to switch up the usual veggie burgers
I drink a lot. I like water and seltzer and iced coffee and iced tea and foods that come in liquid form.
Anyways, I know that is one of the (few) "healthy living" habits that is easy for me but it's not easy for everyone. So I have the pleasure of doing a giveaway courtesy of Bethenny's Open Sky Shop.
First off, can I just say I love Bethenny? Cause I do.
(source)
She recently open up her own Open Sky shop with some of her products and other favorite things. Her SkinnyGirl Shape Line is in there – anyone tried it?
You can win her fave Water Bobble & Filter Set by leaving a comment in this post.
Open to residents of the US. Closes Sun at 8am PST.
Open Sky also sent over some Q&A from Bethenny. I normally don't accept prewritten interviews, but I am genuinely curious about all things Bethenny so I thought I'd share…
It seems like everybody's biggest challenge for living a healthy lifestyle is time. What's one simple thing time-starved women can fit into their day to live a healthier lifestyle?

What I tell women is there's no way you can be the best mother, the best wife and the best businessperson if you're running yourself ragged!

The best thing you can do to keep healthy is to keep hydrated. Even if you have one hand on your blackberry, your baby bouncing on your lap and your ear on a conference call, you can still manage a few quick swigs of water. I even struggle with it personally because I don't love water, but your body needs it to detox and to keep things moving if you know what I mean. So my alternative is knocking back club soda.

Summer's here so we're all thinking about baring more skin. Can you share one of your best secrets for getting a more toned body?

There's honestly no secret. I believe in watching what you eat and exercise in moderation. Otherwise you go on one of these crash weight-loss regimens and you give up by Day 4. You can't keep it up! And then you end up beating yourself up. If I eat a burger for lunch, I'll have a salad for dinner. If I don't have time to do 40 minutes of yoga, I'll take the stairs instead of the elevator or park a little further away and walk a little extra. Moderation is key.

I'm a New Yorker so I'm used to walking a ton every day. That's just what we do.

With your incredibly busy schedule, how do you find the time to cook at home?

My schedule is crazy but I always make it a point to make Bryn a home-cooked meal every day. I started out in catering so cooking is what I enjoy. And I swear, it's easy…as long as you make it easy. Don't say you're going to make beef Wellington and a baked Alaska for a weekday dinner with the hubby—make turkey burgers and 30-minute brownies instead.

What are a few easy tips for gradually moving toward a healthier lifestyle?

The easiest way to start is to get rid of all those processed foods in your kitchen. If it's not there, you can't eat it. Fill your fridge with real food instead. If you really need those potato chips, buy chips that are the most natural. (Hint: Check the ingredient list and it'll be the one with the least ingredients.) If you really need that booze, make a Skinnygirl cocktail so you're not downing all those calories.
More Fun Friday Fideos!
1. Did you hear one San Diego Fireworks show accidentally set off ALL the fireworks at the same time?! It was epic for 15 seconds and then everyone had to go home.
2. Thank you haters video – It looks cute at first but is not sufficient for work. You've been warned.
The Thank you Hater song from that video is available on iTunes and all profits go to http://www.beatbullying.org/
Enter the Water Bobble Contest by leaving a comment on this post!
Run SMART Goals
Fill out this form to get the SMART Running Goals worksheet to your inbox!