Yesterday Ben and I took a walk after work. I don't know why but we got on the subject of Smores and I wondered why they didn't make marshmallows with the chocolate inside. This way the chocolate could get melty. RIGHT?!
Well, Ben thought this was genius and took off to the store when we got back for Smores Supplies.
He is also a genius because he bought dark chocolate chips. They are amazing.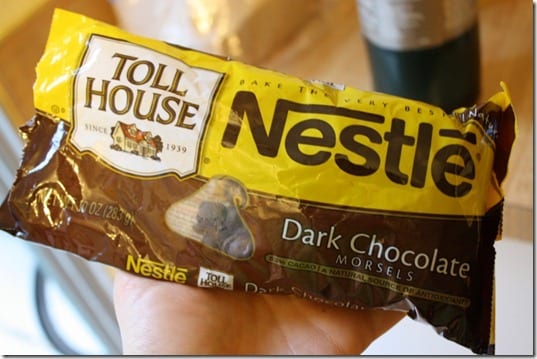 He made a little hole in the marshmallow and stuck a few chocolate chips in there.
Then, he "roasted" it…
Wa-La! Smores!
I'm not the biggest marshmallow fan so I had a bite, but stuck to straight up chips
Last night we watched Jeff, Who Lives At Home. I really like Jason Segel so I was a fan.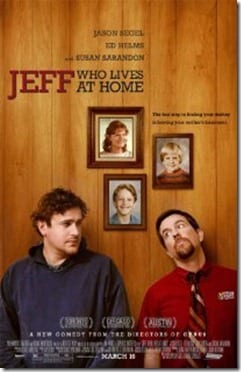 (source)
Speaking of that guy – remember when I saw the 10 year engagement and thought I looked like him?
Well yeah, I still think that.
FRIDAY
This morning I did an easy 3.5 miles without a watch. I think it's a bad sign that I'd rather go without a watch then use one of the ones I have
I couldn't decided between Pancakes or Eggs for breakfast so I made eggs and had a piece of toast with cinnamon sugar for a little something sweet.
FUN FRIDAY!
Ben sent me this 32 and Pregnant video and I thought I'd share.
Reader Question:
A reader sent me this question this week and I don't have a lot of knowledge about varicose veins (I am a cellulite expert though – at least on how to get it). Anyways – can anyone help?
Hi Monica,

My name is*** and I have been reading your blog for quite some time and love it. I relate to a lot of what you deal with in the food area. My question or problem is that I have all these spider veins/ varicose veins on my legs and I just keep getting them. I am pale with reddish hair but only 27 years old. I work out 3 to 5 days a week and walk a lot. I am *** pounds at 5`* so I am trying to lose weight (which might help me from getting more?). I was anorexic for a lot of years so my weight has fluctuated a lot from 78 to 130 and I am trying to overcome bulimia. I just don`t understand why I have them or how to get rid of them. Do you have this problem or know how to prevent them? Anything would be helpful. Thank you for taking the time to read this. I hope to hear from you.
Time to start my day! I'll see you later…
Run SMART Goals
Fill out this form to get the SMART Running Goals worksheet to your inbox!