Happy Monday!
When I got home from my mom's yesterday  I sipped some of Ben's vanilla shake while figuring out dinner. Not sure if you can tell, but I was watching Real Housewives of New Jersey in the background. It is my favorite. Anyone want to be in my RHWONJ fan club?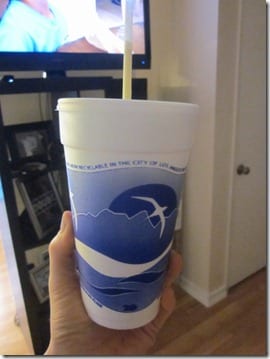 I spotted this Tempeh bacon on sale and WF this weekend and thought I'd give it a while. I love tempeh, but I never can make it as good as the Veggie Grill. Their tempeh is amazing.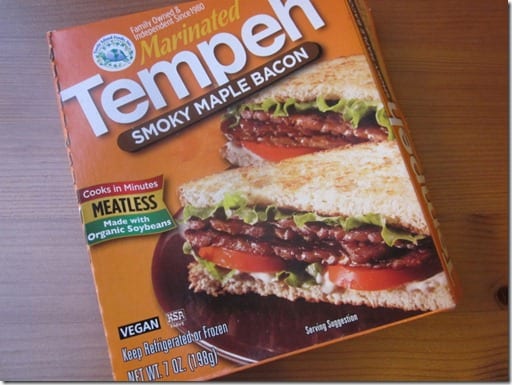 I cooked up 4 slices and stuffed it in a wrap. As expected, it wasn't up to the Veggie Grill standard, but it was good.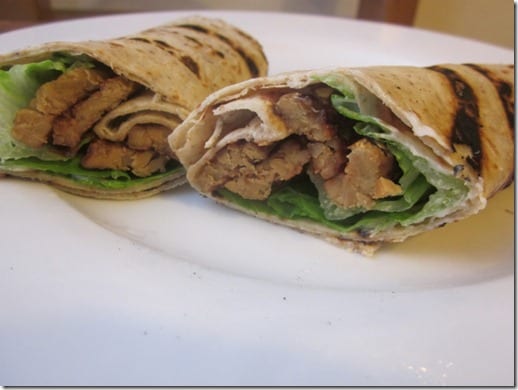 Speaking of VG – now I'm craving it big time! I just realized I haven't been there since last July! Glad the blog keeps track of important info like that for me.
Ben's vanilla shake just made me want more ice creamy treats so I made myself a smoothie in a bowl with apple bananas, ice and milk.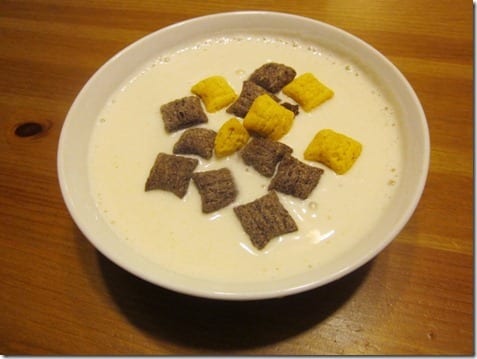 What's that topping?
That would be my second WF score from this weekend. I had a coupon for a free box of cereal from Barbara's Bakery and picked the best one – PB and Chocolate Puffins. The box is ripped because I ate them on the way home from the store. Don't judge.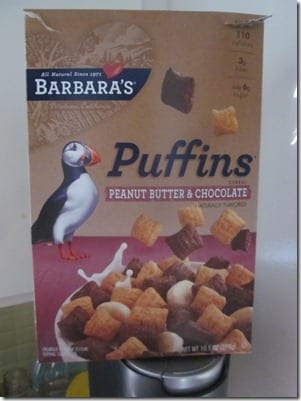 Monday
This morning I woke up and felt my IT band was super tight. So, I opted not to do the speed run I had planned and decided I would go out for an easy few miles to shake it out. Well, an easy few = 6 miles. I ended up feeling pretty good (actually it was probably because I got lost in my thoughts).
I spent some time stretching when I was done and gave myself a long lecture about getting to yoga this week or I would be grounded from watching RHWONJ next week.
Ah! Now I'm taking it seriously.
I usually make Ben breakfast before I go for a run and this morning I made him oatmeal. Well, that planted an oat seed in my brain and that's what I wanted when I got back from my run.
I used 2 packets of low sugar maple brown sugar and added 1/4 c of egg whites for protein. Let's see how long this keeps me full…
Monday Music – I am loving this song on my play list right now:
I am craving Veggie Grill for lunch now!
What are you having for lunch?
Run SMART Goals
Fill out this form to get the SMART Running Goals worksheet to your inbox!