Hi! Today has been go go go, but I wanted to stop in and share my first ING Class of 2012 video! AH! I'm such a weirdo, see below
But first, some cherry love <3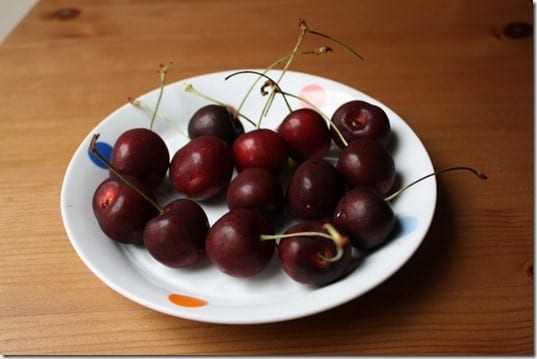 And another Lazy Cooks Guide to Healthy Eating tip: Grab a ready to eat salad container… (preferable on sale!)
and fill it up up with more veggies, grains and protein. Instant lunch with no dishes to clean!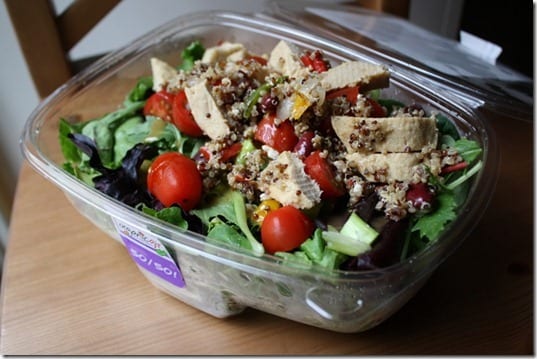 Since I've been asked to be a part of the ING Class of 2012 team I've been thinking about my marathon training plan. I normally download a plan and then follow it loosely. That's why you don't see a fancy ol' excel spreadsheet of Marathon Training on RER. I do it old school style.
I actually purchased a program from Running Planet this time around. It's a little ambitious, but I really want to try and stick to a "real" marathon training program this time. Let's see what I can do!
But, I need 2 rest days for sure and I want to incorporate yoga since it's good for my body and soul. I wrote out a few ideas of how to tweak it based on those constraints and will probably do something like this:
This week I switched Wed & Fri. since I didn't have access to the pool Wed.
Starting this week the marathon is about 16 weeks long so I started at week 5 of it. This gives me a cushion to skip a week if I need a vacation
From now until November 4th the ING Runner's Nation Facebook page will be sharing videos with me and the other 3 Class of 2012 team members. This week they introduced each of us in a short segment.
These are supposed to be fun, entertaining and helpful videos for anyone training for a marathon – not just New York. I know the Fall / Winter is prime mary season so if you are training for something please check it out. We plan on doing a lot of discussion type topics so everyone can chime in!
You can go to the Runner's Nation FB page to check it out and leave comments. You can also "like" it if you like it, which I hope you do…
Run SMART Goals
Fill out this form to get the SMART Running Goals worksheet to your inbox!