Hello and Happy Monday!
Since I did a run/bike combo yesterday and a 14 miler on Saturday I knew my legs were due for a rest. I took a little 2 mile walk to wake up and came home for the usual fare.
I pretty much avoided the computer all weekend so I have a lot of work to do today! Luckily, I realized Monday would be busy and I thawed some chicken last night. I dumped it in the crockpot and dinner tonight is done!
After breakfast I hit the pool for a few laps. I went to Pam's master swim class, but did my own thing. I do need to work on form and drills, but I just wanted to swim 200 meters in a row to see how it felt. Well, it was hard! (Which only makes me realize how much I really need to work on form and breathing!!) But I did it.
Music Monday 
 Women's Health Magazine has a bunch of different playlists for workout motivation at that link.
(source)
And this is Olympic Marathoner, Desiree Davila's playlist of choice these days: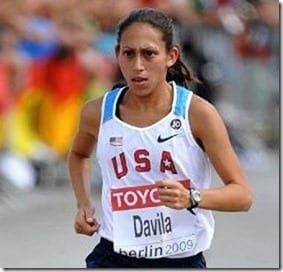 Desiree Davila's Playlist:
Andrew Bird – Imitosis
Okkervil River – For Real
Various Artists – Take Lots With Alcohol
Sunny Day Real Estate – 8
The Velvet Underground – Run Run Run
Of Montreal – The Repudiated Immortals
Saves The Day – Take Our Cars Now!
The Pixies – Here Comes your Man
Ramones – Beat On The Brat
Dramarama – Anything, Anything
Bob Dylan – Meet Me In The Morning
Outkast – Rosa Parks
Here is a link to the playlist on Rhapsody. (You can get a free 30 day trial to check out out.) No guarantee that running with this playlist will help you run a 2:22 marathon though…
Winner of the Brooks Pure Project Shoes: Jeni who said, "The Pure Flow look amazing! I would love to try out those shoes!"
Question: What's your song of the day?
Run SMART Goals
Fill out this form to get the SMART Running Goals worksheet to your inbox!