I survived my first attempt at running, biking and swimming in a row. The bike was rough because it was hilly, apparently my seat is way too low (Coach Pam told me last practice and I forgot to fix it!) and my gears strongly dislike being changed. So, ended up turning around a little early on the bike portion.
We did the full 200m swim.. The pool I've been swimming in is a 25m pool and the length will be 50m on Saturday. That worries me because when I get to the side I'm huffing and puffing like the big bad wolf!
I'm definitely not prepared to complete this race fast. And I'm very scared about riding my bike around others who are going fast AND I'm scared of choking in the pool because I'll be tired at that point. But, this is a learning experience. I'm doing this tri because it's an entry level race and I just need to get out there and see where my starting level stands as of now.
I got home at 8pm and luckily dinner was already on the table. I had called Ben and asked him to get Thai food. I was still wrapping up practice so I didn't even tell him what to order for me.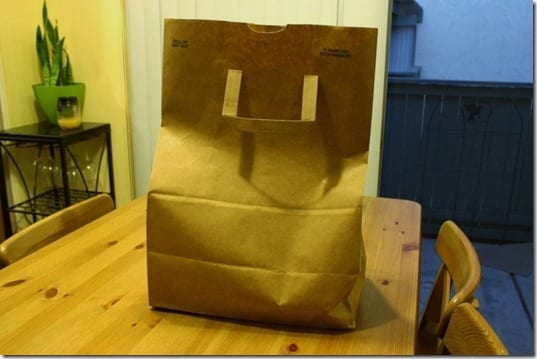 Somehow over the years he's picked on on the fact that I am a super btch extremely high maintenance when it comes to food and he ordered exactly what I would have – tofu with veggies. Unfortunately this Thai place doesn't have brown rice, the one teeny drawback.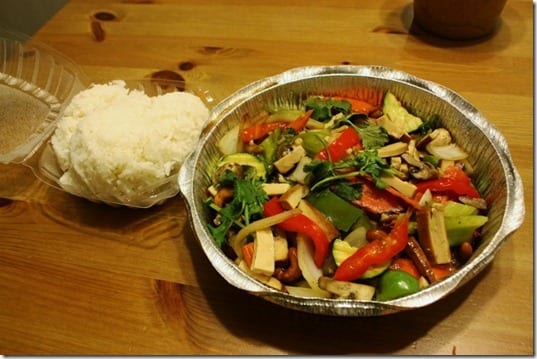 A Vitatop and some greek frozen yogurt came tumbling after
Thursday Morn' This morning I ran 7.75 mile (aiming for 8). I wanted to keep an 8:45 pace but I have a really hard time with that since from my house it's a gradual incline out and downhill back. I end up doing 9 minute miles out and 8:30s back – which I DO NOT think is the same thing.
Breakfast – 2 egg whites, 1 egg and a bagel.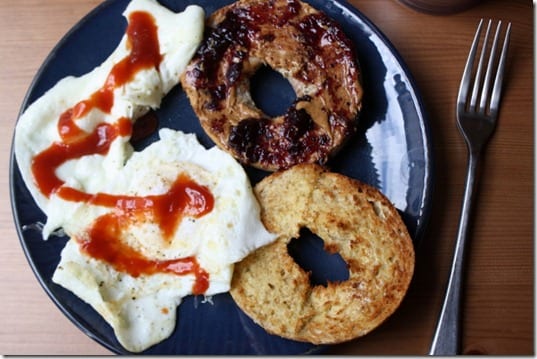 And now I'm finishing up my favorite food while going through emails. I <3 watermelon forever.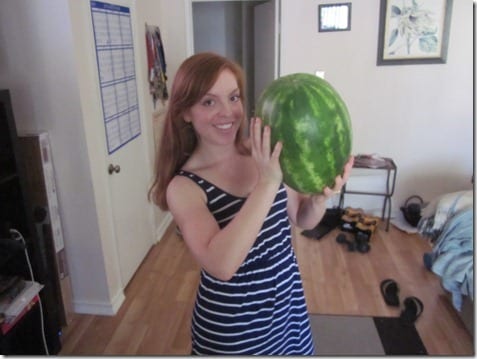 PS – I did this to mess with Ben and he got way too happy about it.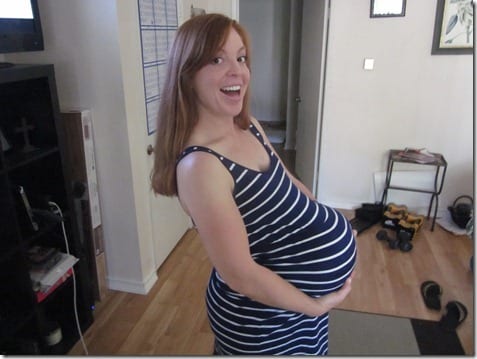 PPS – When I get pregnant I won't be one of those girls that just gets a belly, so this pic is not indication of what a preggo Monican looks like.
While on my run this morning I was looking at houses and thinking about where we'll live next.  The thing is, I don't feel like I have a 5 year plan so it's hard for me to imagine babies and new homes and stuff. Thinking about big life changes like that feels weird, not exciting – but maybe it's because we don't have a plan?
Question: Do you have a 5 year plan?
Run SMART Goals
Fill out this form to get the SMART Running Goals worksheet to your inbox!