Hello and Happy Friday! I have a super busy day, so let's do this
Last night I made quesadillas for dinner. I love these and don't know why I neglect to make them everyday. I used LC cheese and it wasn't gooey, but this very tasty!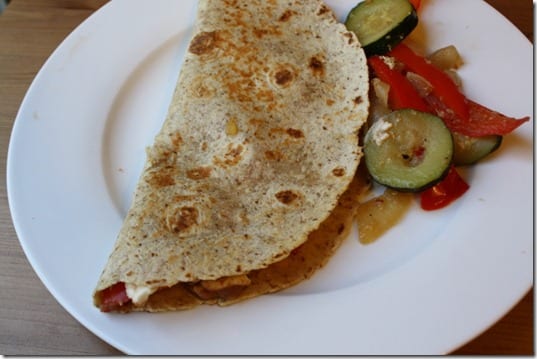 Then, I headed to a Yogurtland meet up with the OC blogger girls. They rock. No pics of the group because I'm pretty sure Sarah from OUAL hates that. Which is so odd, I don't know why anyone would get annoyed with a blogger taking pictures of everything / everyone / every food in a 5 mile radius. Boo.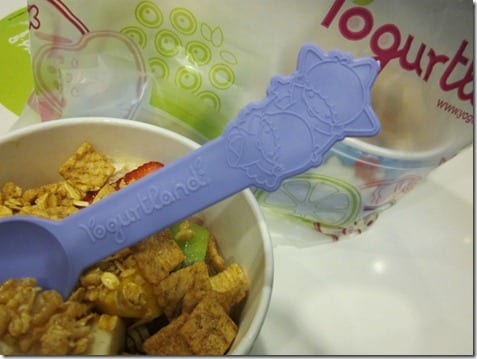 I was running late so I jumped into the conversation as soon as I got there. But, I can't go to YLand without getting the Y so I took some to go. I also got some for Ben. I think that won me some brownie yogurt points.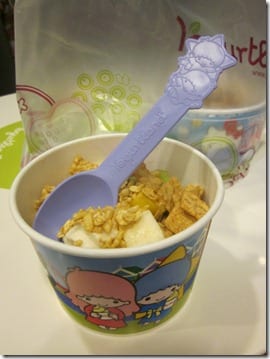 Friday -  I started the morning with a nice 3 mile walk. I'm headed to yoga during lunch. It's been so long I'm pretty sure I forgot how to get down with my dog.
Breakfast – I really wanted pancakes or French Toast, but didn't have time so it was the same ol' same ol'. I've been using 2 egg whites and 1 whole egg lately and it's changed my life. Adding a whole egg is so much more satisfying taste wise and the added yolk is where it's at.

I am speaking at Fitbloggin again this year! Fitbloggin is a blogger conference in Baltimore, MD September 20-23. I will be attending with the Refuel Chocolate Milk Team and attending their session on recovery. And I'm co-leading a session Blogging: How Much Is Too Much?
It's about oversharing. Hmmmm. Wonder if I've ever done that before…
Fitbloggin is actually my favorite blog conference! I love it because the vibe is very happy and supportive. Other blog conferences have been overwhelming and scary to me. This one just feels right. Plus it's in MD so I can eat a ton of crab cakes
Here are my posts from the last two:
Fitbloggin' 2011 and arrival post 
I spoke about Blogging 101
Fitbloggin' 2010 – My first blog conference ever. I was so scared, but ended up loving it.
Since I'm speaking I have a coupon code for 25% off the conference tickets! Email me if you want the code!
Question: What are you doing this weekend?
My tri is tomorrow and my stomach is already "nervous" about it.
Run SMART Goals
Fill out this form to get the SMART Running Goals worksheet to your inbox!