Yesterday afternoon Ben and I headed out on a little date. I bought a Groupon earlier this week for a local pizza place. It included an appetizer, medium pizza and wine or beer for $15. Nice!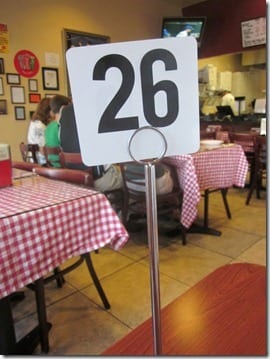 The appetizer options were only garlic cheese bread or wings, and I let Ben decide figuring he'd get the wings. I was going to "save room" for pizza.
But, he ended up going with the garlic cheese bread and I enjoyed one.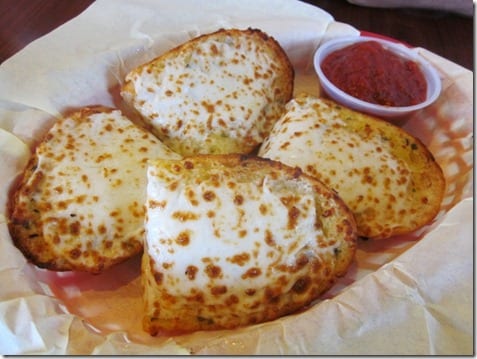 I went with the white wine and loved it! I am usually pretty finicky about wine and have been known to leave a glass if I don't like it (like the one on my counter from Thur. night), but I chugged this one. We made sure to find out what kind it was.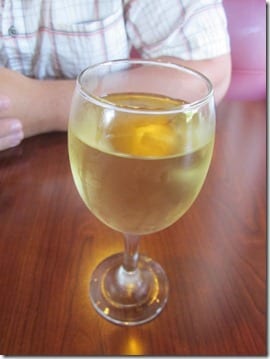 I love pizza.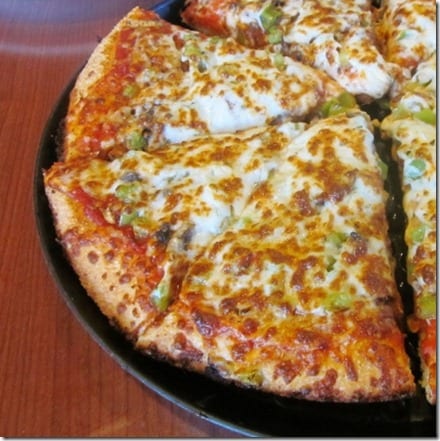 We went with mushrooms and bell peppers. So so good. I stopped at one piece plus Ben's crust, because I was saving room for dessert.
Normally "dessert" means fro-yo, but since we saw that Cleopatra movie last weekend and smelled the movie theatre popcorn I have been craving it! Don't judge, I have the popcorn disease.
Our plan was to see The Campaign and I knew I wanted popcorn. Ben and I shared this and I cut myself off before we finished it.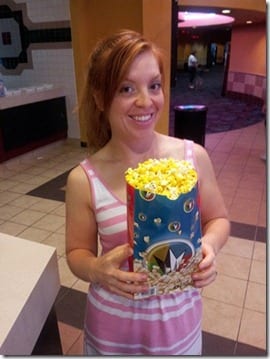 The movie was good, not as funny as Taladega Nights, but what is?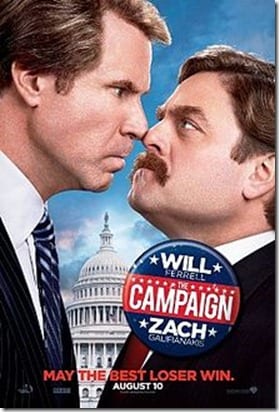 This morning my Garmin played nice and turned on for me! This pic is from Friday when it was "sleeping" – note the cat rubbing his face on the chair in the background.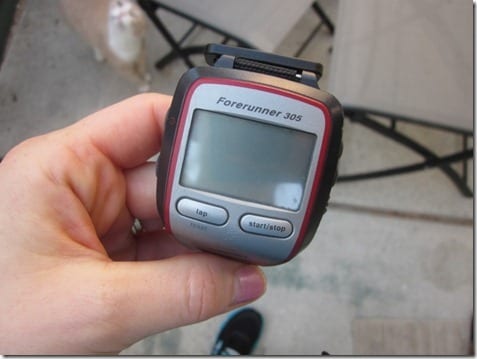 I ran 3 miles to meet Skinny Runner at a local park. From there we did 7 miles together. It was HOT.
I suggested we wear our Refuel gear…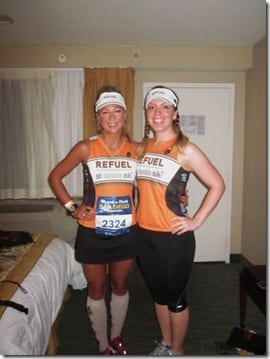 But she insisted on wearing her Minnie Mouse outfit and that I dress up like Goofy and run 10 paces behind her. Fine.

The things I do to make friends…
Not really, I convinced her this was how Goofy dressed. I think she bought it.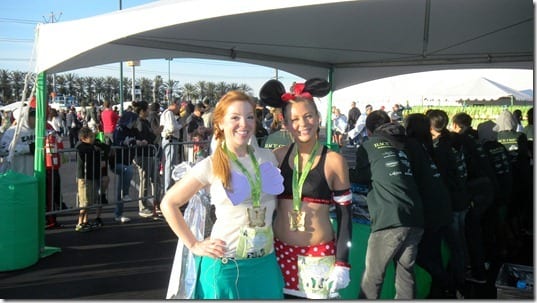 After we parted ways I ran home another 4 for a total of 14.3 and walked to 15. I was supposed to do 16-17 so this was less than ideal – especially because of all the carb loading I did yesterday! I take full responsibility that I didn't push myself enough and should have started earlier. Just making notes, not excuses.
Post-run food:
An entire watermelon. Seriously.
I bought this watermelon yesterday during my lunch and it's almost gone. I've been trying to make my watermelon last and pace myself, but that is out the window this week. It makes me so happy, not sure why.
Egg and cheese quesadilla.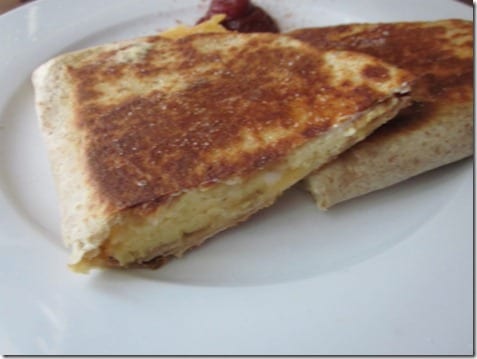 Now I'm blogging while Ben watches the Rhythmic Gymnastics. He says this is his favorite summer Olympic sport.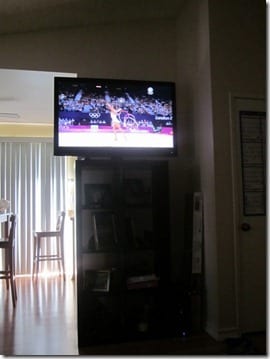 Seriously.
The big plans for today include finding out where I can buy a bottle of that wine and drowning my sorrows while Ben rolls his eyes and tells me my life is awesome and I shouldn't feel sorry for myself because I ran 14 miles and now get to sit in the AC and sip gin and juice. Something like that.
Run SMART Goals
Fill out this form to get the SMART Running Goals worksheet to your inbox!