Reader Rochelle from Australia reached out to me ages ago that she'd be in town this week and wanted to meet up. We've been emailing back and forth for so long I was happy to finally meet her today!
We met at Pinkberry for fro-yo, but since it was lunch time and I hadn't eaten I grabbed a WF salad from next door.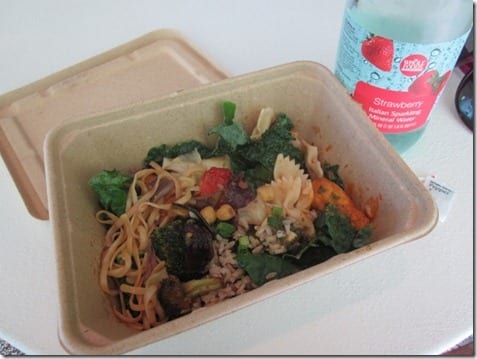 It was so cool to chat with a reader from the other side of the world! It was like we were old friends, except I don't speak Aussie. She taught me that they call tank tops – singlets and you're only supposed to spread a little Vegemite on your toast.
Now I know everything I need to know for a trip Down Under! Well, not everything, but what I lack in knowledge I make up for in enthusiasm!
Thanks Rochelle (and her doll of a little girl).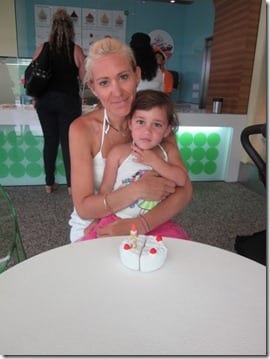 She even brought me a present = sunflower seed butter and MY FAVORITE PROTEIN POWDER!!!!!!!!!!!!!!!!!!
I got a special delivery in the mail today too! Vanilla Chocolate Chunk Chobani, I give a quick review in the Ask a Monican below.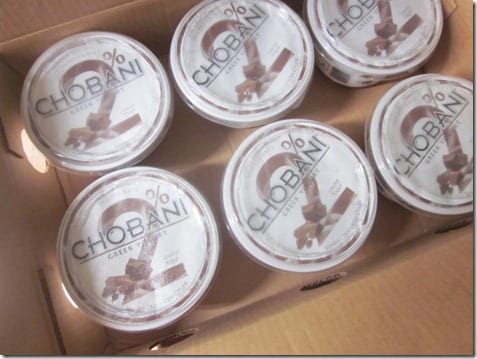 Dinner was a salad and a frozen meal. Ben and I shared this straight out of the Tupperware he used to make it.
<- the smiley face is because he made the salad.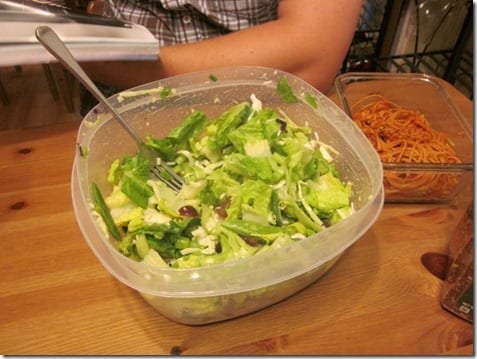 I made sure to leave room for dessert. After spending an hour in Pinkberry I had fro-yo on my mind into the afternoon. I usually "save" fro-yo for a weekend treat and tried not to get too crazy with it. $2.45 = moderation in my world.
Ask a Monican #42 – Chobani Vanilla Chocolate Chunk review and how/should I train in the Canadian winter?!
Chime in with your thoughts ya feel like it!
Run SMART Goals
Fill out this form to get the SMART Running Goals worksheet to your inbox!