I was flipping channels earlier and stopped at Giada's Food Network Show (yeah, I'm pretty sure that's the official name of it). I never actually follow recipes, but I do like to get inspiration from the Food Network.
Well, she was talking about comfort foods and making the most amazing chocolate cookies. I stopped and made note of the ingredients in my head movies.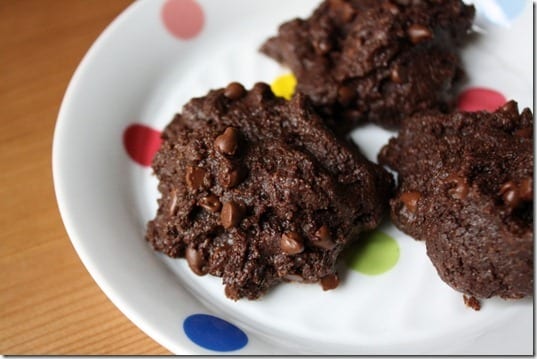 Now, I knew I should NOT bake these cookies for several reasons…
I am the worst baker so I usually try to avoid it.

It's 100 degrees here today so baking on a stove from the 1880s isn't the best idea.

I don't have any FLOUR. All I have is garbanzo bean flour – not even oats to grind into oat flour. <- hello.
But, I did have all the chocolate and sugar for this recipe – and that's really all you need to make cookies, right? Right??
No, not at all.
But, I figure I'd make them with garbanzo bean flour, call them gluten free and pin the shit out of them.
Monica's Gluten Free Chocolate Chocolate Chip Cookies
(inspired by Giada's Double Chocolate and Espresso Cookies)
Chocolate: 1 TJ's super dark chocolate bar with 1.5 Tb. butter. Melt in the microwave and combine. Add 1 egg when it's cool.
Dry: 1 cup garbanzo bean flour, 1/2 c sugar, dash salt, 2 Tb cocoa powder. <- I forgot to use baking powder but they're still fluffy. Combine.
Add 1 cup of chocolate chips. Mix. Drop onto baking sheet from the second story balcony. Bake at 350 for 15 minutes.
Truthfully, the batter tasted weird. But the final baked product was delicious! I know – I was surprised myself!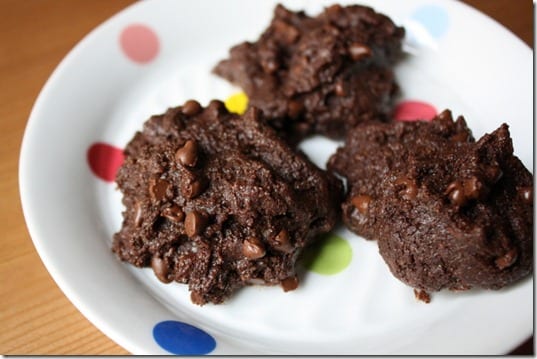 As if chocolate chocolate cookies aren't enough – I played at the park with Skinny Runner today.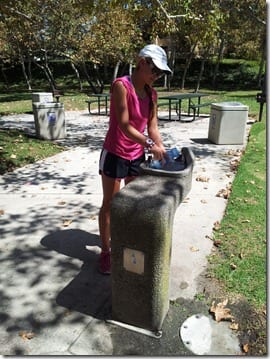 I would have brought her some cookies, but
A.) She only eats salad and pickles
B.) I made them after I saw her.
She made me scream "SR is the best!!!!" from this horn thing, but the joke's on her because I really screamed "SR is the breast!!!"
And I cannot do a pull up to save my life.
The End.
Run SMART Goals
Fill out this form to get the SMART Running Goals worksheet to your inbox!