After my long run yesterday I took it super easy (read: lazy). I hung out on the couch watching Julie and Julia while eating watermelon. Totally my idea of a good time
Ben was MIA at some science meeting thing and finally came home around 6pm starving so we headed straight out to dinner. I've been craving sushi so we tried a new to us place near by.
I got the salmon bento box and had one of those crunch rolls above. Ben took some of my tempura, but outside of that no grain of rice was left behind.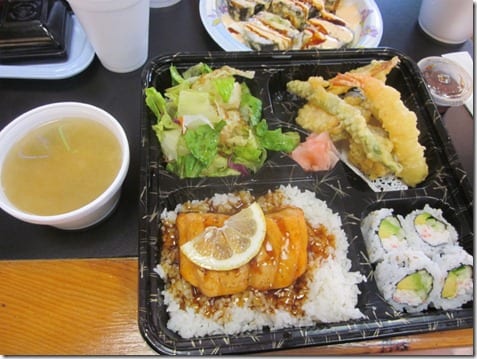 Even though we were full from dinner I couldn't resist stopping on the way home for fro-yo. Hey, it was still 95 degrees! I needed it to cool off.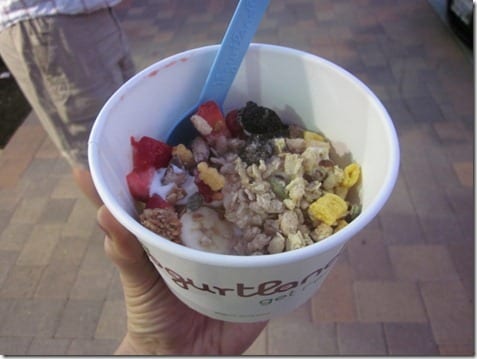 This morning I woke up early and went on a 3 mile walk to shake my legs out. I'm surprised that I don't feel tired or sore at all!
Breakfast – I'm O.V.E.R the heat wave going on in Southern California. I know I'm not a fan of the cold, but I am making a formal request that Fall starts asap around here (hopefully, I won't regret this in a few cold months).
I made Pumpkin Pancakes in an attempt to summon Fall this way…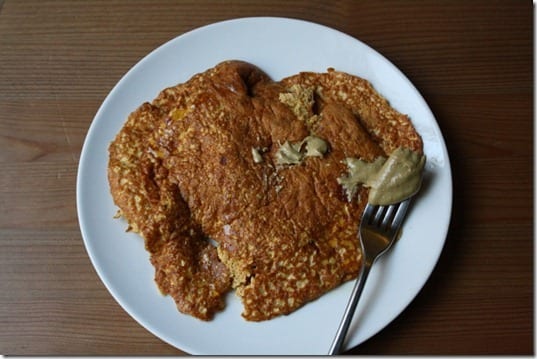 Then I had an
Asian Pear with a side of Time magazine. Are you keeping up on the news? It's crazy out ther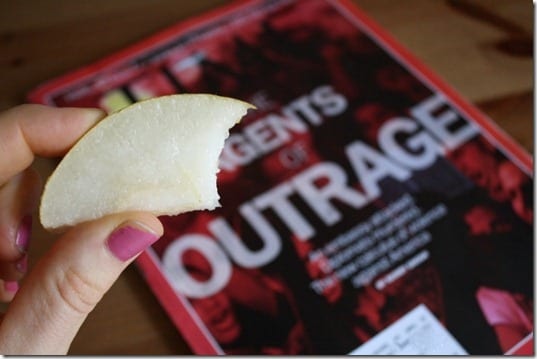 After breakfast we  headed back to the church we tried a while back that's super friendly. It's kind of weird though because EVERYONE knows each other and 42 people introduced themselves to us before the service. I need to take notes next time.
Lunch was a salad, grapes and a quesadilla.
Now we have a list of things to accomplish today! I'm headed to Baltimore on Thursday and want get ahead of things before the week starts.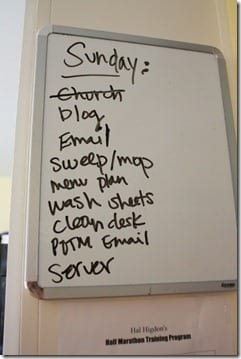 I forgot to add "plant our avocado seed" to the list! Ben is determined to grow an avocado tree on our patio. I'm optimistic even though we can't seem to keep a cactus alive…
Today is Mexican Independence Day!
I think this calls for a celebration margarita!
Here's my lazy margarita recipe if you wanna play too.
Run SMART Goals
Fill out this form to get the SMART Running Goals worksheet to your inbox!