Hello! How was your weekend?
Mine is slowly winding down and I'm on the couch watching #RHONJ with some dark chocolate. Overall, I'm going to give the weekend an "A" for awesomely hot.
Luckily, my Sunday Set Up cleaning spree led me to something hidden in the depths of my freezer – I have one more Adonia Greek FroYo from my special delivery in June! Clearly key lime isn't my favorite flavor or I would not have lost track of it.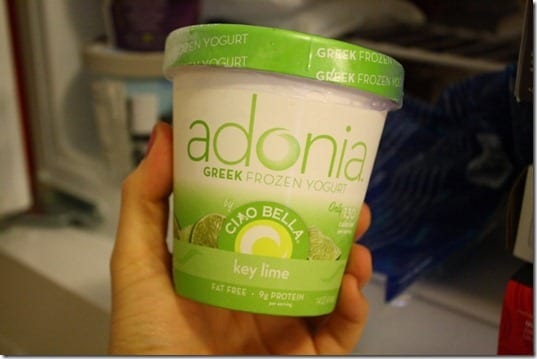 I also came across this special golf ball while I was going through some stuff in my closet. Any guesses on where it's from?
I was on a mission to stay productive today and crossed off 75% of my To Do list. Good enough for me (obviously someone is not "type A" up in RERland)! Guilty as charged.
Aaand Ben made dinner while I hit up TJ's for a few essentials we need for tomorrow. Sadly, before we met he cooked all the time but I slowly worked myself into the job of full time cook of our fam. Well, I'm so busy this isn't working and he's starting to cook more. I gave him instructions on this, but he executed it perfect – sweet potatoes, green beans and tilapia. Amazing meal.
Dark chocolate for dessert…
Search Me Sunday
The internet searches that brought unsuspecting visitors to Run Eat Repeat this week:
"i get so so hot when i run" – Me too.
"elote man passed out"  – I bet he was running in this heat.
"chubby mexican girls" – We might be chubby, but at least we don't have…
"red spots on my right balls" <- yes, that search landed someone here.
"is that a dildo" if you have to ask you're doing it wrong
"what goes good with crab cakes, brussel sprouts, and mashed potatoes" – Wine and me!
"what does an overcooked white cake look like"  – I'm guessing burnt.
"sorry i'm loud" – I'm not.
"california state law when is it too hot to run" – Yeah, um this is NOT a law but you might end up like the elote man if you're not careful!
"taking off clothes for shower" – Yes, please do that.
"wine vending machines" – Is this a thing?! Please say it's a real thing…
Question: What's your favorite search? Which one are you most likely to have done?!
Run SMART Goals
Fill out this form to get the SMART Running Goals worksheet to your inbox!