Happy Wednesday!
Yesterday after work I was running errands and time got away from me. I called Ben to start on dinner and he told me he sprained his ankle really bad and couldn't really put weight on it. So, after a quick stop at RiteAid for ankle support supplies I threw together frozen meal/leftovers for dinner and we ate in front of the TV.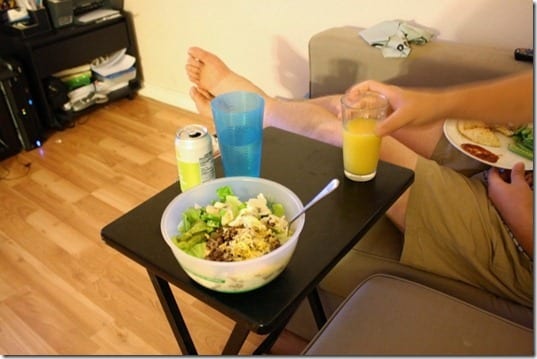 Then, I made some cookies to make us feel better
I made half a batch of healthified chocolate chip with coconut sugar and ww flour. Again, I am not a good baker but warm cookies pretty much always taste delicious.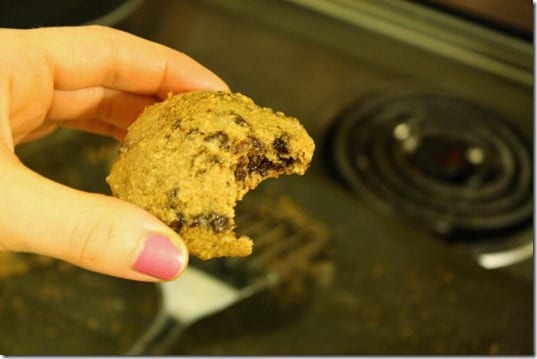 This morning I made him breakfast (I always do this) and helped him with some other stuff before leaving for my run. I nuked up a big bowl of banana oatmeal so I could take a couple of bites to fuel me up since I was headed out for more than an hour.
Then, I headed out for a 9 mile run. I was hoping for 10 but got a late start helping ol' hobbly.
Post run breakfast = watermelon soup (the rest of the watermelon in my container plus the juice) and eggs with toast.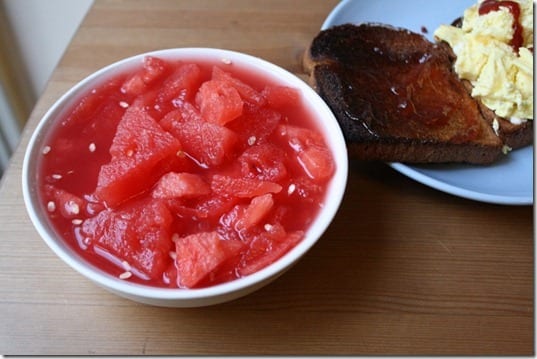 I need to remember one side of my toast over is working over time and the other is asleep…
I'm headed to Baltimore tomorrow morning and have a lot to get done before that! Plus, my nerves are starting to kick in (does anyone else get super nervous about blog events?!).
Off to work, pack, blog, eat, repeat…
Question: How many times a year do you normally fly on a plane?
Run SMART Goals
Fill out this form to get the SMART Running Goals worksheet to your inbox!