Hello! This morning I woke up around 5am with Ben's early alarm (he's on an early sched this week). So, I was up and ready to run a few easy miles before the sun. I'm always hesitant to run before the sun (mostly because I'm scared of the dark) but Brooks recently sent me the perfect piece of gear for this –
Brooks Nightlife Vest
The most obvious thing that makes it great for low light runs is the color. I got to choose what color I wanted and picked PINK. Yes, it's BRIGHT and I love it! It also comes in yellow or green.
But there's a lot more to it than the color – this week I  interviewed Brooks apparel expert, Gabe Maricich. He gave me the scoop about how they designed the reflective pieces on their night gear to show drivers that it's a runner NOT a mail box or something else reflecting on the side of the road.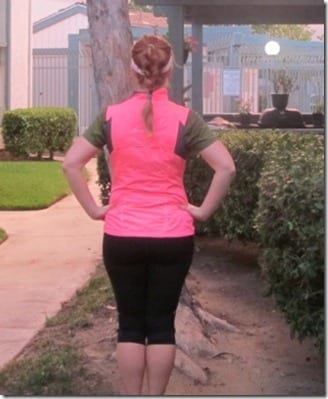 Southern California was finally a little chilly this morning too. The vest offered the perfect amount of warmth without making me want to rip it off after 1 mile.
Other features of the running vest:
• Fit: Semi-fitted
• Windproof and water resistant with Durable Water Repellent (DWR) coating
• Full front zip with inner storm guard and zipper garage
• Back vent for added breathability
• Internal moisture-proof media pocket and two side zip pockets
• Front/back 3M™ Scotchlite™ retroreflectivity
Brooks also sells a Nightlife Jacket. I went with the vest because I don't need that much warmth in Southern California, but this is a great option if you're in a cooler climate.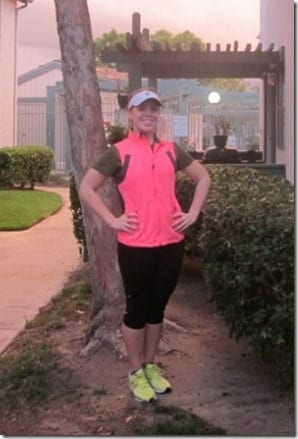 I did 4 easy miles. I'm still trying to figure out how my legs feel after this weekend's marathon so I didn't take any music or a watch – I focused on how my legs feel. My IT band is pretty tight and really needs some stretching and foam rolling. Other than that I'm okay.
Post run I did most of Jillian's 30 Day Shred – I really wanted to do 6 week six pack, but I can't find my dvd. Boo. So, I did the 30 day until the last part of Level 1.
Breakfast – eggs and pumpkin oat bran. I love that the oat bran sits so heavy in my stomach – I was hungry and needed that!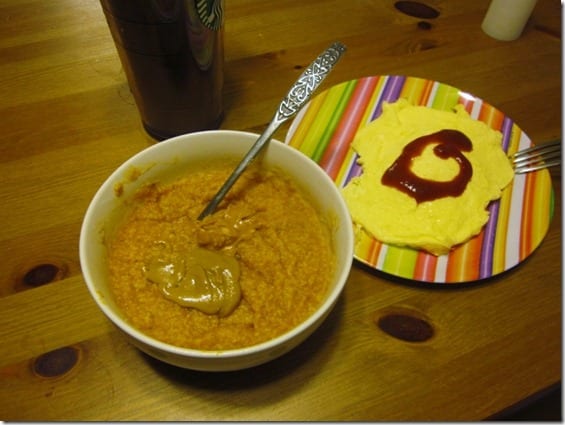 Question: Have you busted out your Fall workout gear yet?
Run SMART Goals
Fill out this form to get the SMART Running Goals worksheet to your inbox!