This morning I woke up bright and early to run around Central Park. I read and heard from other would-be NYCM runners that there would be a HUGE group coming out to 'run anyway'. Since my hotel is across from CP I knew I wanted to join in.
Yes, as expected thousands of runners were doing laps around Central Park. Some of them were even doing the full 26.2 miles!
During my 2 laps I ran next to people from South Africa, Mexico, France, Chile, Holland, UK, Germany and more! I'm sure most of these runners were disappointed that the race was cancelled but everyone was in high spirits. I guess that's the good thing about runners, we have a lot of endorphins to keep us happy?
It was cold and Central Park is HILLY! I was not about to run the full 26 miles with those hills and my sore knee. I did 12 miles and stopped to take pictures periodically.
It was a bit sad to see the mile marker signs for 25 and 26, but I stopped to take a picture for the memory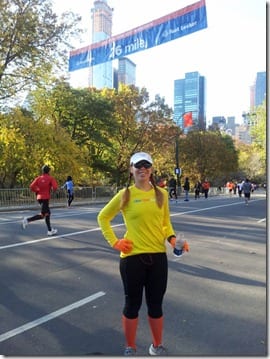 The Finish Line was all set up too. There were tons of people gathered around taking pictures of themselves in front of it. That area didn't have as many endorphins in the air, but it was good to capture.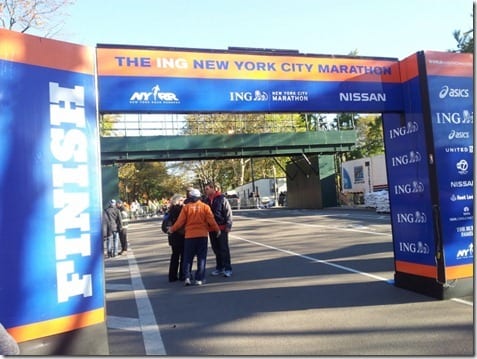 The grandstands near the "would be" finish line were empty and sad too. There were a lot of people milling around, but I cannot even imagine the roar of the crowds I have been hearing about since I announced I would run the race back in June.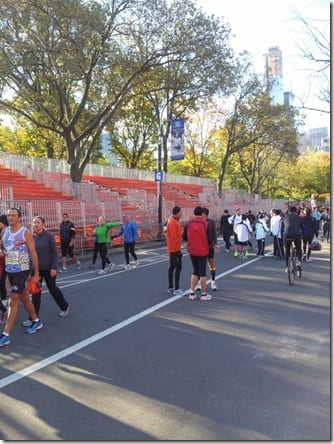 People came out to cheer on their runners…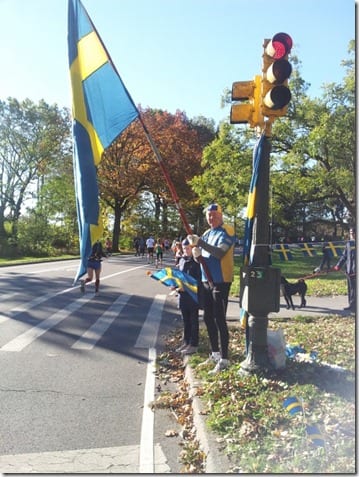 and others even handed out gels and water!
I know this was nothing compared to the actual marathon, but it was great to see so many runners still just doing their thing and getting a ton of support.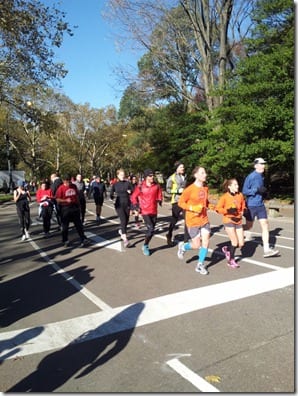 I saw a few people with "Sandy's Send Off" on their shirts and many people wore their marathon bibs! There was a big feeling of community even beyond the language barriers.
Runners were encouraged to donate $26.20 to the Run to Recover cause.  If you want to contribute click on that link and it gives you options on what charity you want to use for this.
A friend told me about her friend who lost everything in the hurricane. A fundraising page has been set up on YouCaring to donate money directly to them.
I also had heard a local group was accepting donations at Central Park, but didn't see anything about that? If you have information please pass it on.
Thank you to everyone who has sent me positive emails and comments. I really appreciate it. It's been a very tough weekend for me, but it is nothing compared to people who lost their homes, so I've tried to keep it in perspective.
Again, if you want to say something put your money where your mouth is and donate or help. Your hurtful comments are not helping the victims of Hurricane Sandy. Do something good.
And Ben's friend just told us about this site – NYCMore.org  <- If you are local you can sign up to help there.
If you know someone with a donation page please share it in the comments.
I'm off to see a Broadway show with my mom and husband. It's been great to spend time with them <3 See ya later!
Updated to add: It is with great reluctance that I am  going to moderate comments on this post since I'll be indisposed on my way back to CA tomorrow and some of us can't seem to use our better judgement in how we're talking to each other.  I can take the ish talking, but when you start attacking each other I must intervene. I have NEVER done this before and appreciate your understanding. 
Run SMART Goals
Fill out this form to get the SMART Running Goals worksheet to your inbox!