This afternoon I wanted a delicious, filling snack and found myself about to scrounge around in the kitchen. Since I'm trying to eat clean this week I knew that even though I wanted to raid the candy stash I should throw something together that would satisfy my sweet tooth without sending me into a sugar binge downward spiral.
I got the idea to make a pumpkin spice frappuccino since I figured something with a little caffeine couldn't hurt either
Protein Packed Pumpkin Spice Frappe
Ingredients:
6 ice cubes

1 cup milk of your choice

1 serving chocolate protein powder

1 tsp instant coffee granules (you could also use 1/2 coffee, 1/2 milk if you don't have this)

1/4c canned pumpkin

optional: extra sweetener, dash of salt, toppings
Blend and drink!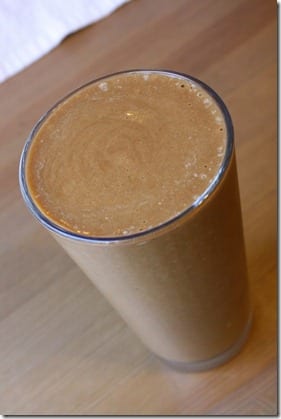 If you have whipped crème that would make this extra fun and fancy. Tip: shake some nutmeg on top and impress your friends!
You Pile on The Miles participants are doing amazing! Don't forget to use the #POTM hashtag and/or brag in the comments! We need to keep each other accountable!
Question: Need some motivation / encouragement OR are you on a roll this week?
Run SMART Goals
Fill out this form to get the SMART Running Goals worksheet to your inbox!