Good Morning! After a 90 degree day yesterday I woke up to a rainy morning?! Luckily I have a ton of cold weather gear I've been needing to test from different companies so I welcomed the chill with open, fleece covered arms
Puma recently sent me some workout gear from their Puma Sweat Pretty line. This fleece is super comfy and cute with a thick pink stripe up the side.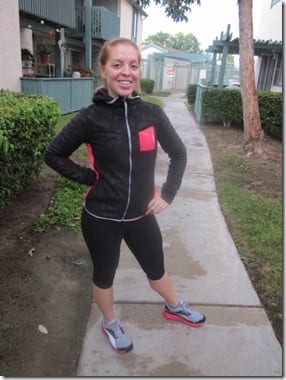 I like that the hood zips up high and stays on my HUGE head.
They also sent me these matching running shoes. Since it's raining today I decided to wear them inside for my Jillian 6 Week Six Pack workout so I wouldn't get them trashed on Day 1.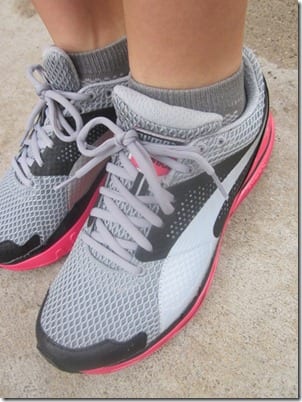 One lucky Pile on the Miles Participant will win the fleece, shoes plus a top and pair of shorts!
Pile on the Miles Week 2 winner of the Honey Stinger prize pack is:
Speaking of Pile on the Miles, I'm going to up the ante of the challenge…
Pile on the Miles Canned Food Drive
Right now there are about 895 people signed up for POTM (!!). I am pledging to donate 1 can of food to my local food pantry for every 10 participants that record their mileage every week. It doesn't matter if you hit your goal or not, just make sure to stay accountable and fill it out and I'll donate!
This is completely optional, but if you want to join in – I'm challenging you to donate a can of food for every mile of your goal you don't do! <- incentive  not to fall too far behind!
Go to Feeding America to find out about your local food bank.
(If you forgot to record your mileage for last week go to the spreadsheet today to update it! I won't check it until tomorrow – so add it now!)
Let's shoot for everyone to update the spreadsheet!!! Go go go!
Question: Thanksgiving is 2 weeks away from today! What food are you most looking forward to?
Run SMART Goals
Fill out this form to get the SMART Running Goals worksheet to your inbox!