Hello! How was your day? Did you check in with your Pile on the Miles weekly goal yet? do it do it.
Today I met Skinny Runner during lunch for a walk. Well, she suggested a walk, I suggested eating $5 pizzas since I'm retired now and I figure 'the hell with it!". 
She vetoed so we walked, but at least let me take a picture with the Little Cesar Pizza guy.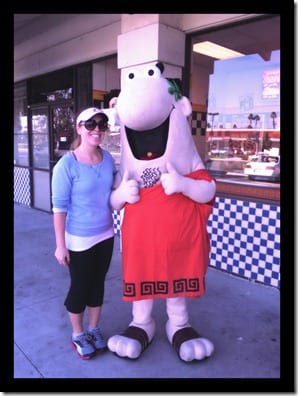 I snagged these super sale Mustard Greens and knew they had to be made tonight or they would be trash. I wasn't sure how to cook them but I know that fancy bloggers cook greens with bacon and maple syrup so I did the same.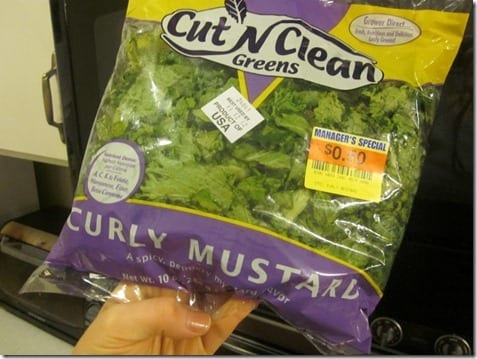 Turns out I was breaking the law by eating bacon since today is Meatless Monday in Los Angeles!!
Luckily, I am safe and sound behind the "orange curtain" and I think they grant asylum.
Anyway.
The LA City Council voted to endorse Meatless Mondays last week. It's completely voluntary but they are trying to encourage eating less meat for health and sustainability reasons. I've been slacking on my Meatless Mondays lately, but I thought this was interesting.
On one hand – I DO NOT want anyone to tell me what to or not to eat. You're not the boss of me!
On the other hand – I appreciate that the council made a definitive statement on something that might not make everyone happy. I don't want the government to tell me what to eat or drink, but I like that they are trying to encourage healthier habits.
I'm just not sure this is the way to go about it? I mean, we also need to educate people that swapping out a burger for a grilled cheese isn't doing too much for their health, right?
I was vegan for half a year in college and vegetarian for years and years after that. I look back on the foods I chose before that and think my tastes were naturally kinda vegetarian even as a child. So, it's not hard for me to avoid meat (sugar is another story!). I am down with a meatless day (or two) but I want to do it when/where I choose.
What do you think?
PS – I really like this Natalie Dee cartoon titled "I Don't Care what you eat tell me again and I'll eat you" but it has bad words so check it out at your own risk if you're a sissy la la.
Run SMART Goals
Fill out this form to get the SMART Running Goals worksheet to your inbox!