Started my day with 13.1 miles. It was rough! I wanted to stop at mile 8.
I only ate half a banana and a bite of Ben's pancake and sausage breakfast before leaving. Not sure if my body wanted my usual PB toast or what but I hit a wall and ended my run earlier than planned. At least I got 13 miles in – I have a half marathon next weekend and another half the weekend after that so I just wanted to make sure I'm up to the challenge!!
It's weird, when I run 15 miles or more I'm not really hungry after (I think all the stress scares my body into thinking I'm being chased by a lion). But, after a 13 miler or less I usually build up an appetite and came back HUNGRY.
Breakfast fit for a queen runner – Toast, omelet stuffed with salsa topped with avocado, turkey sausage and a scoop of sunflower seed butter for dessert.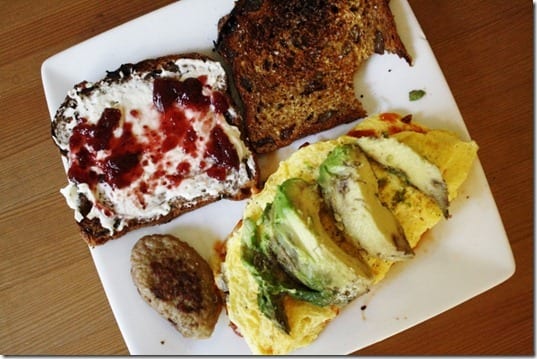 A little while later I was still hungry, but knew I just needed my food to settle. I finally asked Ben to peel the pomegranate for a snack. I talked him through the underwater de-seeding method and I think it changed his life
Seriously. He LOVED the method and taking big handfuls of the arils. He said I should buy them all the time and he'd take care of opening them. Score!
Around 1pm my mom and dad dropped off my little brother so they could spend the day wine tasting. Matt and Ben hit up the movies while I went shopping.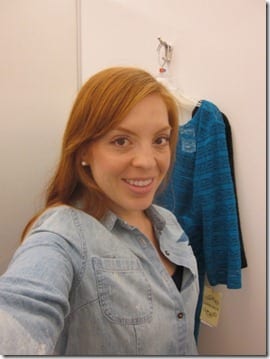 I need to find a dress for Ben's work Christmas party. I actually liked both of the dresses I tried on, but I didn't love them so I passed. I kind of want something green or red for the holiday too. The search continues…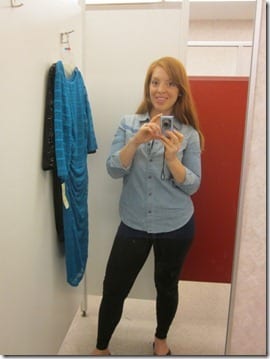 I also hit up Whole Foods for some hot bar action, but all the good stuff was gone.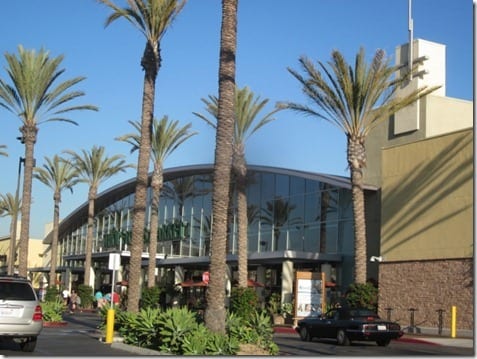 We saw Max the Lab on the way home – apparently he has a Facebook page as advertised on the back of this truck!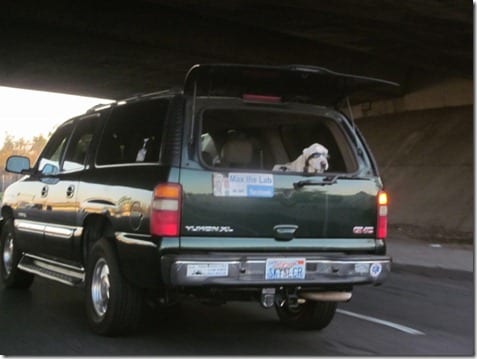 It was after 4pm at this point and the boys hadn't had lunch so we stopped and grabbed a $5 Little Caesar's pizza. Yeah, it wasn't very good. Get what you pay for.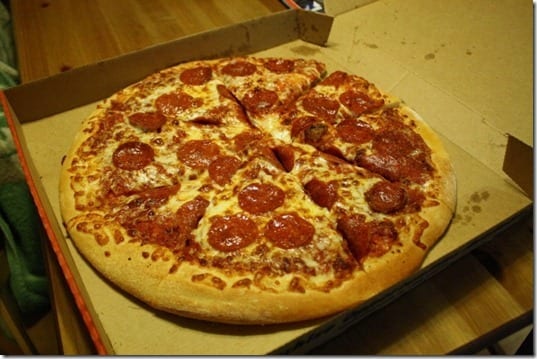 Remember how I bought a whole turkey on Wednesday?!
Well, Ben heard on NPR that Julie Child would make it Spatchcock style – that is when you cut out the backbone and spread it out. He butchered the bird, I just stood there looking horrified and bossing <- my specialty.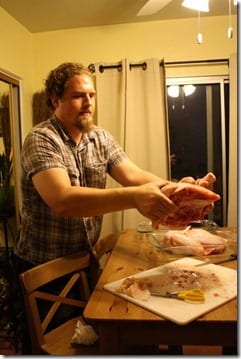 We had to cut it completely apart because we don't have a pan big enough to spread it out. It's in the over now – I'll let you know how it goes!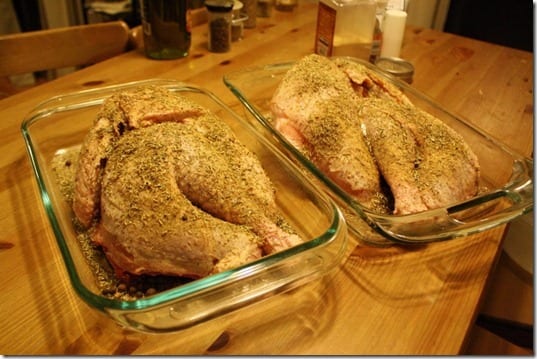 Question: How's it going with you?
Run SMART Goals
Fill out this form to get the SMART Running Goals worksheet to your inbox!