I am a complete sucker for a good magazine headline.
I spotted this issue of Women's Health at the airport on Sunday but stopped myself from grabbing it because I knew I had a subscription waiting at home. I was curious about the "8 Hour Diet" headline but figured it was just that you can only eat during a specific 8 hour time period.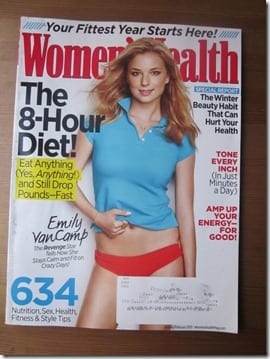 When I flipped through my issue yesterday I discovered I was kinda right. The "hook" of the diet is that you can eat anything you want within a set 8 hour time period and only have to workout for 8 minutes each morning. But, it does also encourages you to eat fiber, protein and healthy fats. I just think the "Protein, Fiber and Healthy Fat Diet" doesn't have the same ring?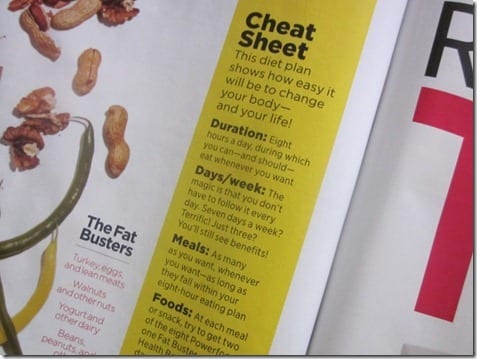 I personally think the more important 8 hour diet is one where you get 8 hours of sleep. At least for me – I know if I don't get enough sleep I hit the snacks hard in the afternoon when I'm dragging.
WebMD on Sleep and Weight Gain
Study on Sleep Deprivation and Weight Loss 
In other news… I had a great 8 mile run today!!!
and a great omelet too. Happy happy.
And because I love twitter and lalalove Will Ferrell, I have to share:
Question: How much sleep did you get last night?
I got 7 glorious hours, would have been 8 but I missed the Housewives of Miami and wanted to see lost footage. How sad for me.
Run SMART Goals
Fill out this form to get the SMART Running Goals worksheet to your inbox!