I was recently sent The Miracle Carb Diet to review. This is right up my alley since I love carbs and I love miracles.
Add them together and what do you get?
Cupcakes.
Okay, not really.
The Miracle Carb Diet is all about combing high fiber carbs and lean protein in your meals. It's written by Tanya Zuckerbrot, RD.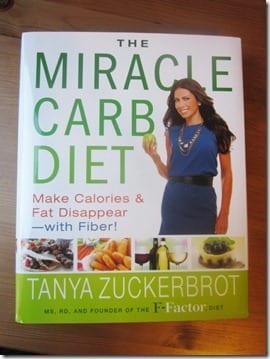 I had the opportunity to interview Zuckerbrot a few weeks ago and giveaway a copy of her book (below).
RER: What should someone eat leading up to an evening holiday party?
Tanya: To avoid overeating at an evening party have a small snack beforehand. Think, 200 calories or less, and containing fiber and protein—the two nutrients that will keep you feeling full for the longest period of time. Some high fiber crackers with a lean protein such as turkey or cheese
with lettuce and tomato, is a great option. Or have some protein-packed Greek yogurt with berries, which are high in fiber. A serving of chicken or vegetable soup or an apple with cheese are also god choices.
At the party Make smart choices:
Protein-based appetizers: Instead of pigs in a blanket (460 calories per serving), look for appetizers like chicken/ beef kabobs, chicken satay or lean turkey meatballs, which are all less than 200 calories per serving.
Turkey: If turkey is on the menu, white meat trumps dark meat. It's lower in calories and saturated fat and provides a great source of lean protein.
Potatoes: If you have the choice between regular potatoes and sweet potatoes, go sweet. They offer more fiber (4g vs 2g) and have more flavor, so there is less need to doctor them up with butter and toppings. They may even satisfy your sweet tooth.
Skins: When it comes to poultry like chicken or turkey, skip the skin. You don't want the extra fat and calories. However, for potatoes, other vegetables and fruits like apples and pears, skin is in—it contain most of the fiber and nutrients.
What to avoid and what to eat instead: Factor-Out crab cakes, Factor-In shrimp cocktail. Classic crab cakes are often filled with fattening fillers and deep-fried, making them a less than healthy appetizer option. Just one fried
crab cake has 290 calories and 19g fat, and that's before the creamy dipping sauce! Instead, reach for waist- friendly shrimp cocktail. One serving (5 large shrimp and 2 tablespoons cocktail sauce) is only 45 calories and 0g fat. Shrimp is a great source of lean protein, which will help fill you up before dinner is served.
Factor-Out prime rib, Factor-In filet mignon. If prime rib is a holiday tradition in your home, it might just be time to start a new one. This cut of beef comes from the fattiest part of the cow, and one serving packs a whopping 750 calories and 45g of fat! That's almost half your calories for the whole day in dinner alone. Fear not this holiday – steak can still be on the menu. Filet mignon is a lean cut of beef; a 4oz. filet is only 180 calories and 8g fat. Dig into a delicious piece of juicy steak, and save yourself 570 calories and 37g fat!
Factor-Out Pecan Pie, Factor-In Pumpkin Pie: Yes, some of the fat in pecan pie is monounsaturated heart-healthy fat from the pecans, but now those pecans are coated in sugar. Plus, most of the calories in pecan pie come from the filling, not the nuts. At 500 calories and 37g of fat, pecan pie tops the list of worst for your diet pies out there. When it comes to picking pie, it's always best to go topless. Pumpkin pie doesn't have sugar coated nuts or a buttery crust weighing it down. This pie is 316 calories and 14g fat per slice. Plus,
pumpkin is a good source of fiber and vitamins A and C.
RER: What is the best drink to choose at a party or cocktail hour?
Zuckerbrot: Festive drinks: Instead of traditional eggnog at 350-450 calories per glass, sip on warm apple cider or a small mug of hot chocolate at about 200 calories each.
One way to go easy at the bar is to order a less- caloric version of your usual drink. For example, order vodka with 0- calorie club soda instead of 90- calorie tonic, or take a cue from the Europeans and have a wine spritzer (half wine, half club soda).
Or try one of my recipes:
Lychee Martini
3 ounces Ketel One Vodka
2 ounces Naked Juice Reduced Calorie Lychee
Splash Vermouth
Ice
4 fresh lychees
Combine the vodka, lychee juice, and vermouth. Pour over ice. Garnish with two lychees per glass
Blueberry Bellini
½ cup blueberries
2 cups Stellina di note prosecco
Blend the blueberries in a food processor until pureed. Strain the pureed berries to remove seeds. Distribute evenly into four Champagne flutes. Pour prosecco into each glass.
RER: What are the top 3 reasons people gain weight during the holidays?
Saving up their calories- As the old adage goes: Eat breakfast like a king, lunch like a prince, and dinner like a pauper, dinner should be the smallest meal of the day, yet this is typically when people consume the most calories. The mentality in the United States is to skip breakfast, have a small lunch, then skip snacks to save more room for dinner. We could not have gotten it more wrong! It's important to have a hearty snack because it is an opportunity to get more fiber in and to keep you feeling full so you don't overeat at dinner. Think about it: Between the bread basket, appetizer, entree with sides, and dessert, you're looking at more than a day's worth of calories at one sitting.
Going cardio crazy instead of lifting weights Add weight training to your fitness routine, because weight lifting adds muscle mass, which in turn increases metabolism and enables your body to burn more calories even when you are at rest. Research has shown that for every pound of muscle that you have added, you burn an extra 45 calories per day. By adding an extra 10 pounds of lean muscle mass, you can burn approximately 400– 500 calories a day. That adds up to 1 pound of fat loss every week without doing anything else.
Not counting the little bites-while it is fine to indulge during the holidays, it is important to keep in mind that a bite here and a bite there can add up to a lot of bites-translation; a lot of extra calories by the end of day or week. eating an extra 500 calories (equivalent to two mini eggrolls) can equal one pound of weight gain a week. So keep yourself in check and think about what you put in your mouth before the damage is done.
RER:  What did you eat today? Did you exercise?
Zuckerbrot:
Breakfast:
Nonfat Greek yogurt topped with All-Bran Bran Buds and 1 cup blueberries
Large coffee with skim milk
Lunch:
Arugula salad with shaved Parmesan
Tuna tartar
Snack:
4 high fiber crackers topped with Mustard, smoked turkey slices, lettuce and tomato
Dinner:
Tricolore salad
Shrimp In spicy Marinara Sauce
Sautéed spinach and Garlic
2 glasses Sauvignon Blanc
Exercise: ran in treadmill for 15 minutes to get heart rate up, sweat and clear my head. 35 minutes weights and 10 minutes stretching.
Thanks Tanya! I'm pretty excited about the cocktail recipes and need to change up my usual vodka tonic for a vodka soda from now on! (Cindy, remind me this weekend.)
Enter to win a copy of The Miracle Carb Diet – Leave a comment, any comment in this post!
Contest open to all residents of Earth. Closes Friday at 8am PST.
Run SMART Goals
Fill out this form to get the SMART Running Goals worksheet to your inbox!