Hello! I made it home! But, I'm leaving for ING Miami on Friday so, should I even unpack?!
Well… now I'm back to the real world. To stay on track here are my mini-goals for the week:
1. Catch up on sleep and email, in that order
2. Get to the store to stock up on healthy food. Done.
3. Update RER pages
#2 on my list is done – I hit up the store during lunch…
In Running News: If you register for the Austin Marathon by midnight TODAY you get a free entry to the 2014 race!!!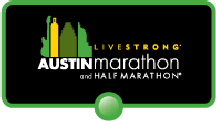 2014 seems so far away that I hope I'll be retired from running/blogging and living in Costa Rica by then, so I'm not in – but if this fits into your 5 year plan register here.
And since it's Music Monday…
This isn't the best song to run to but I kinda love it today – Bruno Mars Locked Out of Heaven.
"Cause you make feel like, I've been locked out of heaven…For too long, for too long…" <- Me singing.
Question:  Do you have a set day you go grocery shopping or is whenever?
Run SMART Goals
Fill out this form to get the SMART Running Goals worksheet to your inbox!