How did your week go?
Mine has been pretty busy, but quiet. I'm working a lot, my 'roommate' is working a lot, the cat is sleeping a lot. The end
But it is a new month so let's recap my favorite Run Eat and post I'd like to Repeat from February 2013…
My favorite RUN 
Running RnR New Orleans was on my bucket list and I got so so excited when I registered, remember?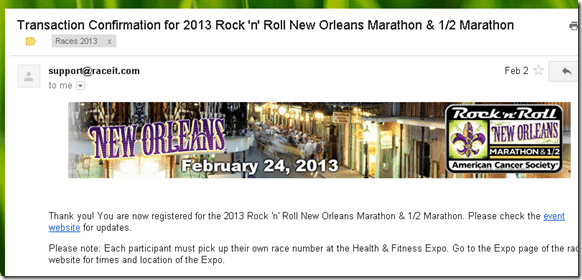 So, even though it wasn't a fast race – I am super happy I ran in New Orleans! The entire weekend was a blast.
Plus, now Dave owes me big time for getting him a PR so I'm going to say RnR NOLA was #1 for February.
My favorite EAT
As of today I am going to say the beignets at Café du Monde in New Orleans are the best thing I've ever eaten. Yes, I'm going that far with it. Boom.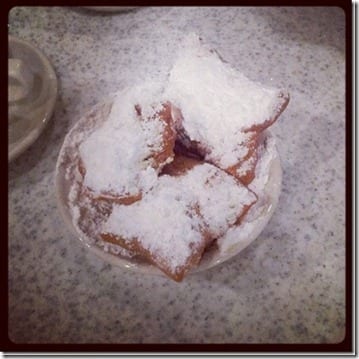 My favorite post I'd like to REPEAT
My visit to Club 33 in Disneyland was pretty epic!
Plus there was this…
Tomorrow I'm going to hang out with a group of girls for my friend Lisa's birthday and Sunday I need to clean my condo top to bottom and catch up on emails and RER stuff.
Question: What are you doing this weekend?
If you're doing a local race please tell me so I can come out and run with you. I miss it already.
Run SMART Goals
Fill out this form to get the SMART Running Goals worksheet to your inbox!