Hello and Happy Wednesday!
Earlier this week we talked about half marathon training plans, but what if you are not training for a race? Today we're talking about Running for Fitness.
How much should you run? How often? How fast? How far? How now brown cow?
Well, how much / far / fast you run depends on your:
a.) Current ability
b.) Goals
How vague and politically correct of me to say that
Lucky for you I am not in the mood to be vague about my thoughts on anything – running, immigration laws, women's rights… 
So when I got this question I put together a rough training plan to give you an idea of how much to run:
I have worked up from not running to doing 4-5 miles 4 days a week plus two circuit days. Do you know if its ok to run the same distances every time? I can't find any info on this. I wonder if I need to dial it down one day and do a longer run at least one day a week? I know its recommended that you only increase mileage by 10 percent a week. Which is how I built up my miles from 0.  Any info would be appreciated. I don't want any injuries! I want to know the safest way to keep running.

Thanks,
First, I think if you are NOT training for a race it's a good idea to switch up your cardio. So, this plan says 'Running' but feel free to use the cardio of your choice. I run because I am trying to stay in running shape, but I would recommend doing other forms of cardio to avoid injury/burn out.
You pick the cardio, just not Bacardio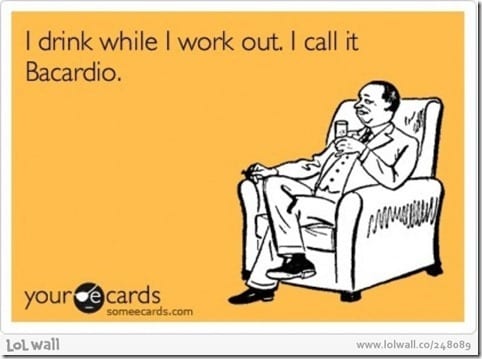 In answer to "Do you know if it's a good idea to run the same distances every time?"
It's not bad per se, but it's not good. Doing one or two steady state runs and one interval or hill run is a better idea then doing the same thing each time.
And try to 'switch it up' every few weeks. So taking a step back in training and/or increasing the time and intensity of your workouts is a good idea. It keeps your body and mind from falling into a rut.  This can include something as simple as cranking up the incline or sprinting to a mail box every now and then.
As with any fitness or running plan – if you feel like you need an extra rest day, take it! Once you are at a place where this is too easy – push it! Push it real good. Remember to assess where you are and increase the difficulty / distance every six to eight weeks or so.
I usually take 2 days off from running a week and one complete rest day. If you wanted to add in some extra cardio on one of the strength days that works too.
This morning I did 4 miles and Jillian's 6 Week Six Pack Level 2 for the first time. She is not messing around. I also did that conditioner trick where I slathered my hair with a good conditioner, wrapped it in a bun and left it in for 4 miles or 45 minutes. Run.Rinse.Repeat.
Yep, representing for Englewood, FL today! what what. I wish I was there now actually…
Question: What's your favorite form of cardio this week?
Disclaimer: Check with your doctor, therapist and nail lady before starting any new fitness or diet plan.
Run SMART Goals
Fill out this form to get the SMART Running Goals worksheet to your inbox!