It's Fitness Fashion Friday and I have to formally apologize to all the guys in the room, I have another sports bra review today. Sorry boys. Hopefully a company will send me some tighty whities soon and I'll have something for you.
As part of my relationship with Brooks they gave me four sports bras to choose from this month. I chose the Women's Epiphany Bra II because I liked the ventilated panel on the chest and back.
Oh, and because it comes in pink. I am a girl.
This sports bra is a pull over, but holds ya in like one of the clasp back closures. It had good compression while still allowing you to breathe. I dig it.
I wore it under my new RER tank for RnR NOLA and it did the job. The tank gets a little see-through when I sweat and that made me self conscious, but having a cute sports bra under made it better.
I know this is the third sports bra I'm reviewing but this is a very important part of women's bodies gear so thanks for being patient. See? Even Vegas is enduring another sports bra post and he's a boy.
I don't have big boobs so right now I can wear this shirt Chobani sent me (along with delicious yogurt!)… 100% Real.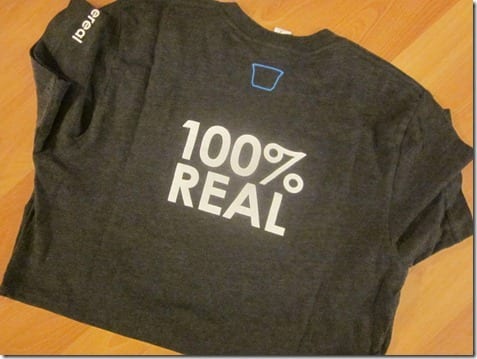 But one day, if I save up my pennies I'm going buy some bigger boobs sports bras ifyaknowwhatImean
  Don't judge, I live in the OC.
Get your Run Eat Repeat tank or other random gear in my spreadshirt shop! I added buttons and guys shirts too.
Question: Do you match your chonies or bras to your clothes?
Run SMART Goals
Fill out this form to get the SMART Running Goals worksheet to your inbox!