This is a continuation of this morning's Calorie Counting post.
Since I was going to kinda sorta count calories today I busted out the food scale to weigh my chicken for lunch. I know that a piece of meat/chicken/fish the size of a deck of cards is about 4 ounces. This piece of chicken was about 4.8 ounces.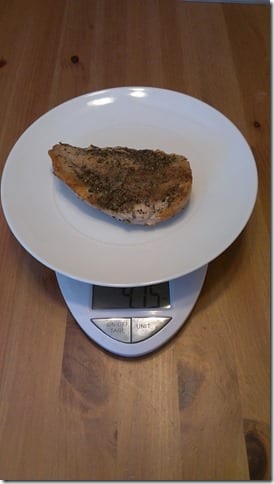 And according to Calorie King.com that is about 231 calories and 43 grams of protein – NICE!
I put it on a salad with TJ's Peanut Dressing so it was about 400 calories with everything else. Note the tons of Sriracha.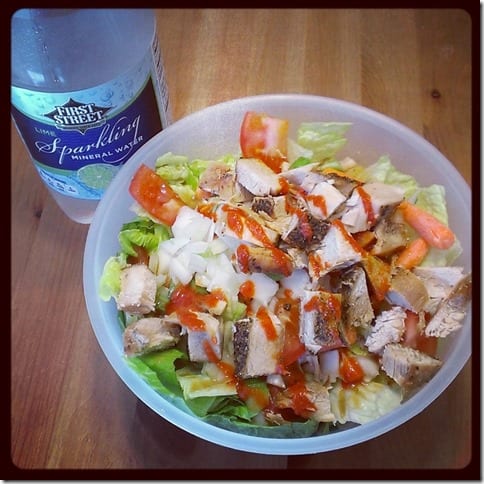 Mid-afternoon I was snacky and had a few random bites of a protein bar before busting out my favorite Quest Bar and putting in the toaster oven so it was like a cookie. Bar and bites = 300 calories
Random Sabra around 5pm when I realized dinner was going to be late = 100 calories
Din-ah! (Remember when I used to yell "Steak Din-ah!!!" really loud no matter what I was eating? No? Well, my neighbors probably do.)
I had no idea what to make and decided to do the responsible thing and use up the veggies before I leave for the weekend.
This is lettuce, roasted broccoli, mahi burger from Costco, some kinda fancy cheese and dressing. Complete random guesstimate = 70 dressing +80 cheese +100 broccoli +160 burger + 60 almonds = 500 calories
Oh, and Chicken and Waffles on the side… 140 calories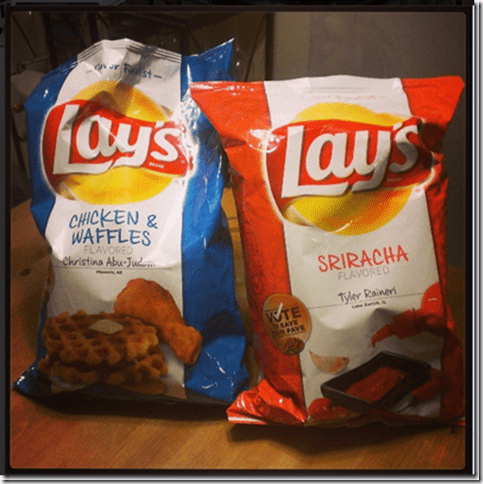 Dessert
Probably 2.5 servings of this caramel corn= 300 calories
And here comes the moment when I add up how many calories I ate today and am a little embarrassed and regretful I decided to blog about this today…
Daily Total: about 2,500 calories.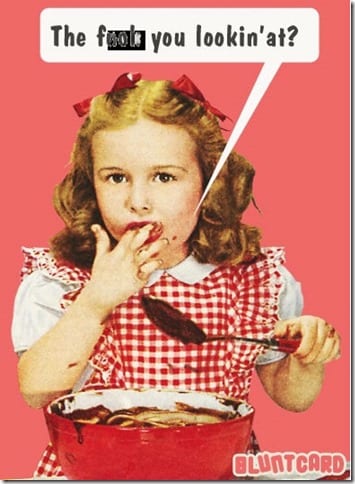 The end.
*I just remembered I ate a pickle at some point too. Random, but delicious. Not going to add for it. No big.
**Again, this was a guesstimate on my day.  I almost think my estimates are a little low and it's fine. Do what makes your body feel good. No one should be that concerned what I eat, except maybe my mom. Maybe.
Today is National Siblings Day! I love these guys
Question: Do you own a food scale? A people scale?
Run SMART Goals
Fill out this form to get the SMART Running Goals worksheet to your inbox!