Last Friday I attended the Latina Bloggers Conference in Los Angeles. I am a member of the Latina Lifestyle Bloggers group and was excited to meet some of my online friends in person!
I actually moderated the panel…
Branding your Social Media Persona to Take your Blog to Brand
From left:
Me from @RunEatRepeat
Martha Gil de Montes from Macy's @marthamacys
Ricky Garay from Mucho Music @muchoupdate
Gabriela Hernandez  from Besame Cosmetics @besamegirl
Jeremy Pepper PR King @jspepper
I was in charge of asking them the questions, so I didn't write down any notes but a few of their statements stuck with me. So, I wanted to share what I learned about branding your social media persona.
1. Consistency is key. If you are blogging / tweeting / facebooking as your brand do it in the same voice. If you want to change it up use your personal twitter or FB account.
2. Make sure your site links to your other social media pages BUT realize this risks readers/companies going to one of your other pages and NOT coming back. Weigh out your priorities.
3. Know how to present. If you are invited to a meeting with a brand/company that wants to work with you be prepared to present yourself as a brand.
4. What's the most important social media site? The one that you do best and gets to your audience.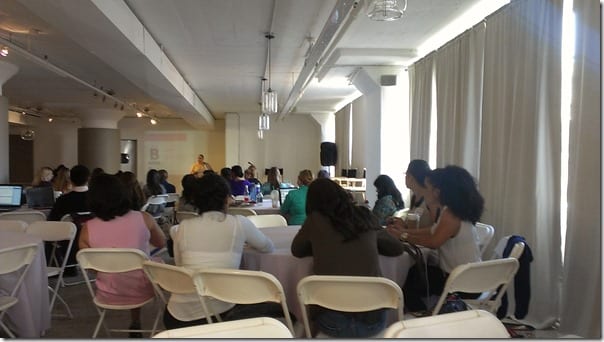 It was an honor to be asked to moderate and I'm so grateful for the opportunity. I encourage you to see if there are local blogger groups in your area and join them. It's nice to have a network of people to learn from and make friends.
I've also been to:
Healthy Living Summit in 2010 & 2011
Blogher in 2011
Blogher Food last year
Fitbloggin for the last 3 years! And I'm going again this year – it's June 27-30 in Portland. If you want to join you can get Fitbloggin tickets here.
Question: Have you ever went to a blogger conference? Which one would you like to attend?
Run SMART Goals
Fill out this form to get the SMART Running Goals worksheet to your inbox!