I got a lot of questions about my shirt sizing and shorts from race day.
What I wore to the OC Marathon…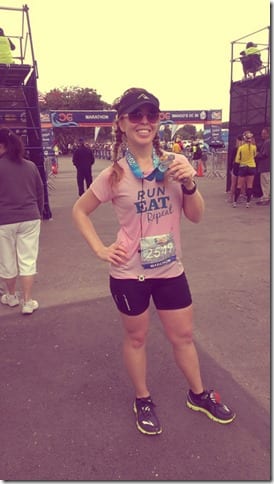 ProCompression Visor
RunEatRepreat tech shirt – in Large, someone asked about sizing for my spreadshirt shop. I'd say they run pretty normal for women's sizes.
Brooks Infiniti Shorts – They have a liner around the leg so they don't ride up too much. They're still a little short IRL but not so short you need to wax first.
Now for the $20.00 question…
How did I PR in another marathon?!
Really it all clicked at the Long Beach Marathon in October for 2 reasons. (I ran a 3:55 – 8:58 pace that day.)
1. I figured out how /what works for my body to eat and drink on long runs. I used to get really bad cramps around mile 21 and this helped me a ton.
 My Fueling for a Marathon post is here.
2. Long Beach was a training run for the New York City Marathon and I was NOT ready for a full marathon just yet. Since I knew it was my last long run before NYC I went out easy and was determined to leave something in the tank.
I really thought I might not be able to finish the race since it was hot and I hadn't done enough 20 milers. Add in the fact that I have a little blog that people read and if I quit I would be embarrassed = motivation to be conservative and not completely eat sht at race day.
I kept an eye on my watch and tried not to let myself go faster than 8:50s for the first half. My goal pace was 9 minute miles for that race but I am notorious for going out too fast so I was adamant about NOT letting myself go faster than that for the first half. Then, I made myself a goal that if I stuck to that pace and felt good at the half way mark I could speed it up.
 I stuck to my plan and had a surprise PR!
That was the first full marathon I ever ran that I didn't cramp or hit the wall. So, that is now how I approach races  – fuel, out slow.
Disclaimer: 1.We are all different. That is what worked for me. You are not me. You are you. You are probably much cooler and prettier and funnier than me for that matter. Own who you are.
2. I am not fast compared to the majority of racers, but I'm getting faster relative to my other races. I still have a lot of work to do before I BQ. I am NOT an expert on anything except being a redheaded Mexican who loves watermelon. 
But I got a lot of questions so… this is how I pace for a marathon: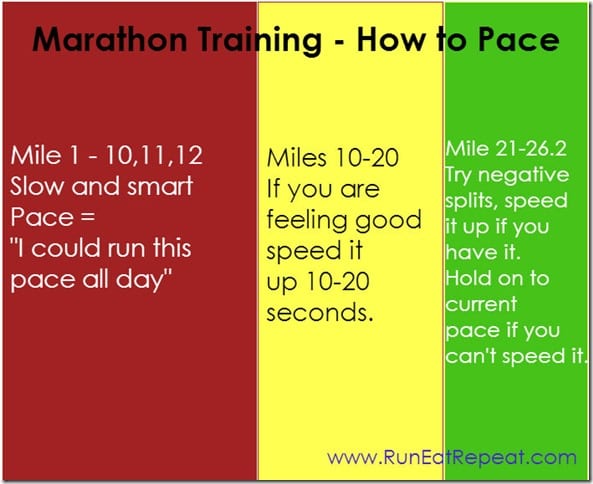 Marathon Training – How to Pace Yourself foo
1. Miles 1-10/12 (depending on how I feel) = GO SLOW. I make sure I think "Yep, I can run like this all day." If it's any faster than that I slow down.
Or I yell at myself in my head… "You are going too fast a-hole!!! Slow down or you're going to die today, is that what you want?! You want to die and your cat starve to death in your condo all alone?! You'll never go to China…"
That usually works.
2. Miles 10/12 – 20 = Check in with myself. Feeling good? Speed it up about 5-20 seconds per mile pace depending on how good.
Keep eating/drinking per plan.
Not feeling good? Consider exit strategies.
3. Miles 20-26.2. Balls out.
Still feeling good?
Yes. –> Then, speed it up.
No. –> Try to hang on to this pace or slow it down depending.
Other options –> Make a deal with the devil. Try not to poop your pants. Don't cry it because only makes it harder to see the mile markers as they go by and you need that reassurance that it's almost over.
4. Cross the finish. Swear you'll never do it again.
5. Drink a margarita or 5. Tell everyone at the bar that you just ran a marathon. Get 'high fives'. Rest for a week or two.
The end.
Question: What are you an expert at?
Me: Redhair.Watermelon. Fro-yo.
Run SMART Goals
Fill out this form to get the SMART Running Goals worksheet to your inbox!