Hello and Happy Tuesday!
Yesterday I had a lil 'NSV' aka 'non-scale victory' when I finally went to yoga! Are you guys familiar with 'NSV' from the ol' weight loss message board days? No? Just me the weirdo, okay.
Anyway- good job Monican
This morning I did a sad attempt at speed work. I'm still not feeling it, so I make a compromise where I do the planned run even if it's slower or whatev.
I am the most undisciplined person on Earth so I will give myself an "E" for effort. Yes, I took a poll of all the Earth's inhabitants and everything so you can quote me on that.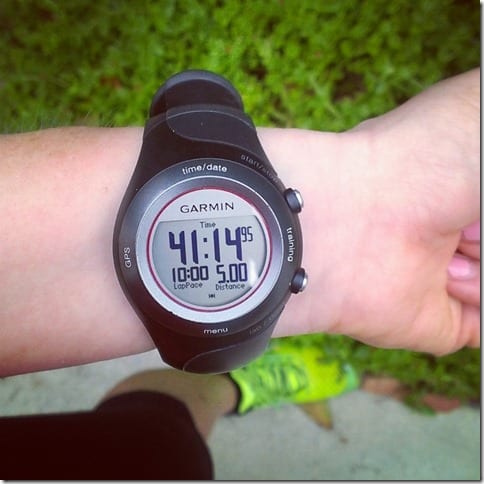 I've been trying out these new Raw Vegan Wraps and had one with breakfast. Full review coming soon. (Spoiler: Don't get too excited.)

Just the Tip : Fruit Ice Cubes
When I was on the Silk trip the hotel had 3 kinds of water out in the lobby. I love fancy water so I tried all three of them. Mmmmmm.
That inspired me to make my own 'spa water' at home.
Just the tip – use frozen fruit or veggie slices to flavor your water!
I used the leftover frozen watermelon chunks from my Skinny Watermelon Margarita to make a refreshing glass of my fave WATERmelonWater.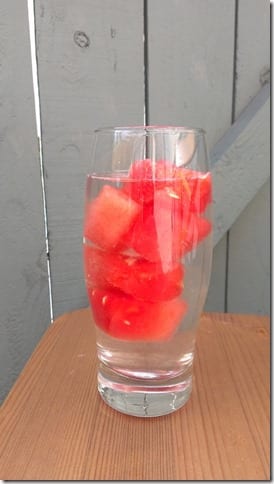 Then, I got super crazy with it and added a sprig of mint from the new addition to our patio garden. I know, watch out.
Speaking of watermelon fun… I went to the store in search of an iced tea pitcher yesterday and randomly spotted these watermelon measuring cups! I die. So, I scored but the pitcher search continues.
I found this set at Marshall's but I found the exact same ones on Amazon here.
Question: What fruit or veggie would you put in your water?
Run SMART Goals
Fill out this form to get the SMART Running Goals worksheet to your inbox!