Hello! How's your week going?
Mine is busy since I was away from my computer for a few days last weekend exploring Maine. It was awesome, but the emails piled up
And I'm headed to the IDEA conference in LA tomorrow so I want to get it together before I go!
I've been going back and forth with running and eating posts on RER lately and haven't done too many life casting posts. So here is what's going on with me this week…
My little brother is staying with me for a few days while my parents are out of town. He's 12 and just old enough to be hired as my lil helper for the week.
(http://instagram.com/runeatrepeat)
I paid him in ice cream yesterday. I bet today he'll want a Yogurtland raise.
This morning I did my new Tensday run. I am digging it. I would like to increase my weekly mileage a bit and this is helping.
Breakfast was Overnight Mang-Oats. I prepped them last night so they were waiting for me when I got back from my run. Delicious! Recipe coming in a bit.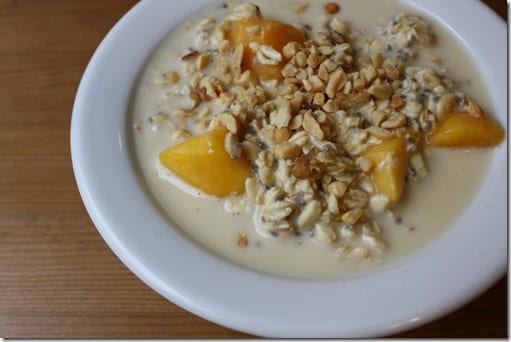 Is running everyday good, bad or crazy?
In my instagram comments someone asked, "Do you run everyday?" – I get this question A LOT.
No, I do not run everyday. I run 4-5 days a week. I always take 2 rest days a week. Recovery days are just as important as run days. Your body needs time to rest and rebuild your muscles. There is a reason rest/cross training days are built into EVERY running training schedule you will find online – they are a key part of training too.
Some people can run everyday and not get injured. They are the few and the proud. Okay, maybe that's the Marines. Yeah, I bet they can run everyday. But I am not a Marine. And now we're off topic!
If it seems like I run on the daily it's because I make it a point to blog about my runs (and exciting eats). I'm not doing a big song and dance about my rest days but they happen every week. Just like I don't make a big 'to-do' about my so-so meals. Consider this a reality show where I am editing 17 hours of content to 5 pictures and you get stuff like this…
More than stuff like this…
Speaking of reality TV…
RHONJ: I am still on team Jacqueline and pro- team Gorga.
HoneyBooBoo: I think Pumpkin is stealing the show this season. I love Alana. Heck, I think I was her at some point in my life…
Now I gotta get to work! See you in a bit!
Question: What's going on with you this week?
Run SMART Goals
Fill out this form to get the SMART Running Goals worksheet to your inbox!