Hello! Last night I had dinner with the fam and we had a Mexican feast!
It was a celebration for my brother and my mom hooked.it.up. We had beans, rice, nopales, carne asada, chicken sausages (courtesy of me) and GUACAMOLE for days. God bless it.
There was also cheesecake and ice cream, but no pics because I was busy. Eatin.
This morning I woke up bright and early for a run. Before I left I enjoyed some delicious banana chia pudding (recipe coming in a bit).
And hydrated like it was my job…
I'm trying to switch around my schedule a bit so that I can fit in a few non-running workouts every week. So I did a longer than normal run today with my Marika handheld. I just realized this weekend pocket fits my big 'ol phone!!! I think it's similar to this model on Amazon, but I can't tell exactly. For reference, my phone is old and tragic and I need a new one, but it's a droid and bigger than an iphone so if you have an iphone.
I've been filling it up with FitMixer Liquid Aminos since I'm outta Nuun. *I do some kind of electrolyte / sports drink on runs higher than 8 miles. On super hot days I may also add a lil sum sum to my water on 6 miles too.
Breakfast of Monicans. Eggs. Oats. Cat tail.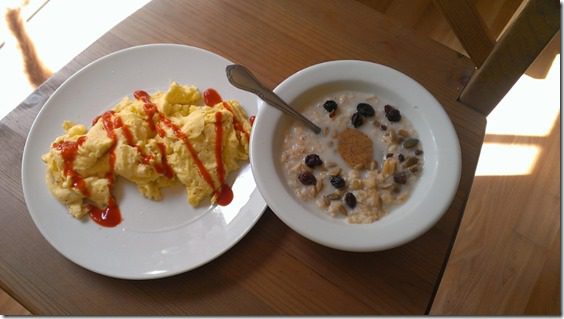 I have been putting hummus on EVERYTHING lately. I just can't get enough and I'm taking it as a sign that my body has a chickpea deficiency. I put a huge dollop of Sabra hummus on my eggs this morning and it took it to a whole other level. Try it.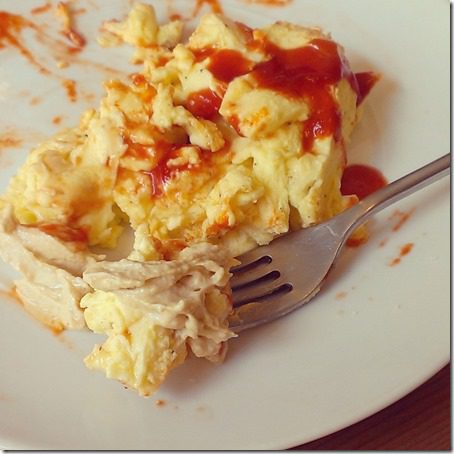 Motivation Monday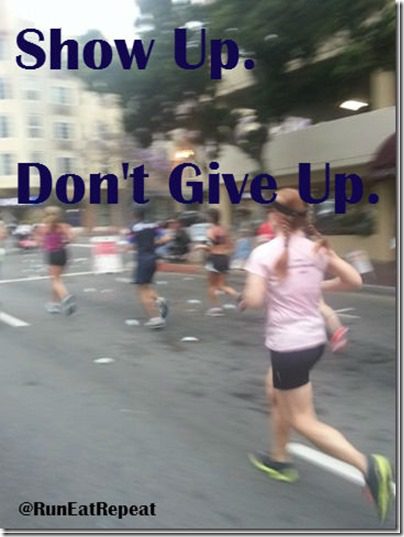 Are you motivated today? Get there. Some times all you can do is make sure you SHOW UP.
I am actually super super motivated after the IDEA Conference! I want to include more group fit classes and clean up my messy eating habits. I think I'm going to start sprouting my own nuts, which I'm excited about. Nerd alert. Yes, I know.
Question: On a scale of 1 to 10/the most perfect eater fitness peep – how Motivated are you to workout and eat right today?
I'm an 7.6, not perfect but I feel good about my efforts.  
Run SMART Goals
Fill out this form to get the SMART Running Goals worksheet to your inbox!