Hello! I got back into the running game today and did a 10 miler in 1:30.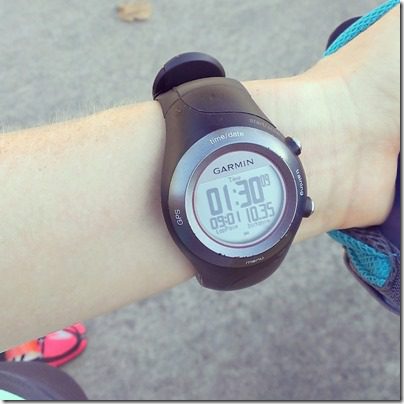 Also – I ran with my favorite running buddy, SkinnyRunner who doesn't mind my ridic poses.
I didn't tell you, but I went to acupuncture on Monday after the race for my ankle tightness.  I told my doc about the race and how I was kinda sad about it. He put a few needles along my heart meridian to help with those emotions and one of my heart points shot energy through my arm in this crazy way! I think my tiny lil black heart was holding onto stuff. That helped and so did this run
Ahhhhh! Deep breath.
When I got back I ate food and caught up on Honey Boo Boo.
Yesterday I ate most of a watermelon. I would have eaten the whole thing but I had to share it at a potluck. Luckily, no one attacked it like I did.
Santa Rosa – where to stay and eat
The Santa Rosa Marathon was kinda last minute for me so I was late to book a room. I've been to the area twice before on job-hunting trips with Ben. One time we stayed at the Marriot and I highly recommend that for location/price/quality.
This time I was trying to keep it as cheap as possible since it was a flight plus rental car plus hotel plus a lot of food because I eat enough for 4 teenage boys. So, did the whole internet thing and found the Redwood Inn was only 1 mile from the start! Score!!
But it's a bit run-down. Nothing that I mind, but I know some of you are fancy pants out there. I'm not fancy huh.
This is also a mini-kitchen. I think this hotel is also used as short term living situations for migrant workers. They were playing mariachi music and selling tamales in the parking lot. I felt right at home
  Si Se Puede!
Eating in Santa Rosa…
The first morning we had breakfast at Parkside Café. We got there just before the rush – looks like that place is hoppin!
Great great menu! Their special was a lamb hash. They also had mimosas and bloody marys (I opted out).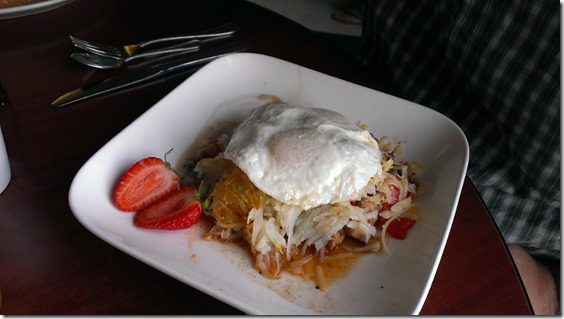 There are also lots of vineyards for wine drinking and picnics and such.
But the best meal of the trip was at Lola's Grocery Store. There is a taqueria attached to the store with amazing Mexican food! Ben got the super burrito and I stole some to confirm it was super. Confirmed.
I got a salad (bacon on the side is what's in that paper thinger) and a side of beans. I wasn't in the mood for my victory lap meal right after the race but this was perfection.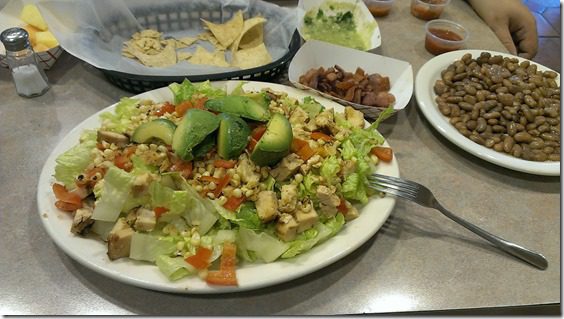 The last time we went to Santa Rosa we ate at the Diners Drive-ins and Dives place – Willie Birds. Walked by it on the way to breakfast…
Reader Katie rocked the Santa Rosa Half Marathon! Awesome! Did anyone else run? Share your thoughts on the race in the comments!
Other news: Girls on the Run LA is looking for coaches. Check out the site for more info.
Sheena is looking for a runner for Ragnar Napa Valley Sept 20-21. Leave a comment if you are interested and she'll contact you for more information.
Question: What's your favorite meal to eat out?
I don't like spending a lot on breakfast, so dinner.
Run SMART Goals
Fill out this form to get the SMART Running Goals worksheet to your inbox!