Hello! I didn't die (yet).
I don't know what the heck happened but yesterday I just started to feel like my whole body hurt and then I DIDN'T WANT TO EAT lunch. <- That never happens. Like, never. Even if I barf I'm like, "Boo that sucks. Welp, I'm hungry…"
And that's how I knew something was really wrong. I considered calling 911 but I looked like crap and didn't want any cute paramedics coming over my house so I decided to die in peace with Vegas on my lap.
By some Christmas miracle I woke up feeling so much better and so I went back to the usual run, eat routine.
5 miles.
Breakfast. The most important meal of the day*.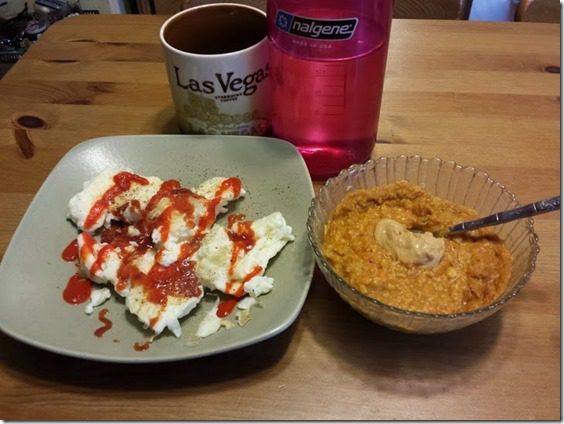 *Tied with lunch and dinner.
And why do I have this disgusting bruise?! I have no idea when I got it… musta been playing ninjas in my sleep again.
Yesterday a SPACE SHIP landed at my condo! Luckily, aliens didn't pop out. Nope. This magical ship had the new Brooks Transcend Running Shoes inside!
I just kept thinking, "So is this my life? I get space ships with shoes inside delivered to my house?!?!" Too awesome.
Inside was the new Transcend running shoe that I thought wasn't going to be released until February. Apparently it's from the future
I haven't taken them for a spin, but I am already digging the pink. (They will be in stores Feb 1st.)
The Transcend is replacing the Brooks Trance so if you can't wait till Feb, the Trance 12 is still available. It's a stability shoe. Check with your feets for your ideal footwear.
I didn't do a grand finale for the Pile on the Miles or Turkey Trot because of T-day and the 25 Days of Fitness Challenge but it deserves a mention!
First – Big big big congratulations to everyone who ran a Turkey Trot last week. Team RER ROCKED their races and I loved all the race stories I read.
A few sent me pictures and I wanted to share
Ericka before the race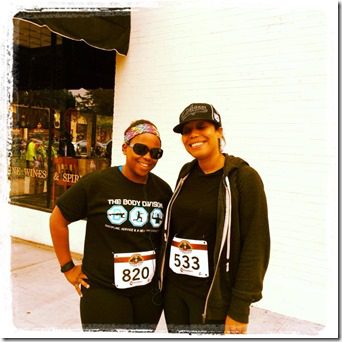 Suegene in pink!
and Maria at the finish!!
Now for the Pile on the Miles winners…
Winner of the Puma outfit giveaway :
Winner of the Clif Bar Prize pack:
And at the final check in we had tons of comments with people sharing their victories, struggles and next goals! I LOVE that everyone set their own goals and did their own thing – it's about staying accountable not comparing and I appreciate the positive vibes!
Thank you so much for participating – I hope it helped keep you on track last month! I would love to do something similar again in January – Let me know if you have any ideas of how we can pile on some miles in January or do something similar!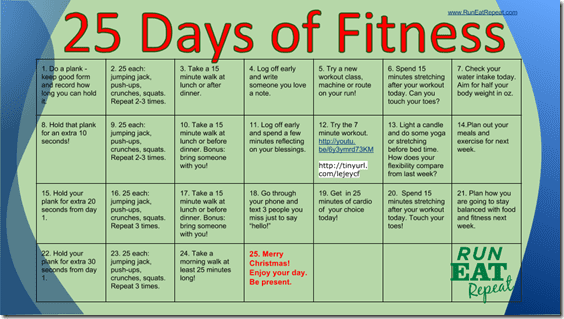 Today's 25 Days of Fitness challenge is to take a 15 minute walk at some point today. Squeeze it in during lunch, after dinner or whenever you have a little bit of time for an extra calorie burn. Follow me on Instagram and I'll check in when I take my walk. It'll be like we're walking together since I don't have any frens.
Question: When will you be taking your walk? Share it and make it happen!
Run SMART Goals
Fill out this form to get the SMART Running Goals worksheet to your inbox!