Hello! How is your week going? Today I have a great vegan food review for ya! But first the randomness…
Fitness
I started my day with a tiny bit of strength work at home and a walk…
I used my ol' coconut oil trick before I took my walk to give my hair some extra conditioning.
(*This is a random bun picture, I couldn't master the air of taking a hair selfie today and just got random pics of the sky/background.)
Breakfast
After my walk I came home to a delicious avocado that was begging to be eaten.
And in other delicious food news…
Yesterday I made my first ever granola!! I'm pretty excited about this. It was just oats, apple sauce, stevia, cinnamon, dried cranberries, peanuts and apple thrown together and baked until crunchy. And then I ate it all.
Vegan Food Review – Coconut Bacon
I spotted Phoney Baloney's Coconut Bacon at my local health foods store a while back. It intrigued me until I finally broke down and bought it. I know the internet is obsessed with bacon so I wanted to share my thoughts on this vegan and gluten free bacon swap.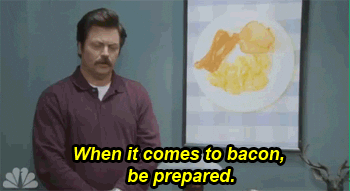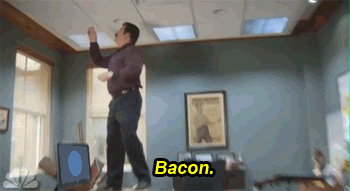 Question: On a scale of 1 to 10 – 1 being you don't care and 10 being you want to make-out with bacon – How much do you LOVE BACON??
Run SMART Goals
Fill out this form to get the SMART Running Goals worksheet to your inbox!