Hello from the farm! Yesterday I toured a tomato farm outside of Bakersfield,CA. I am on a trip with Sabra in honor of their line of salsa.
One-two-cha-cha-cha!
The Sabra #SalsaLove team brought me and a few of my closest salsa loving food bloggers out to see their pride and joy… the tomatoes that make it all happen.
I learned different companies have different types of tomatoes that they use exclusively for their products.
Sabra has found a tomato that is the perfect flavor, consistency, juicy-ness, color and more for their salsas. Companies like Heinz and others do the same for their ketchup or tomato paste too! (And it's not that they are genetically modified, it's cross breeding and all that farmer jazz.)
In the most impressive move of the day Joe picked up a BIG tomato plant, turned it upside down, shook it and all these tomatoes just fell off!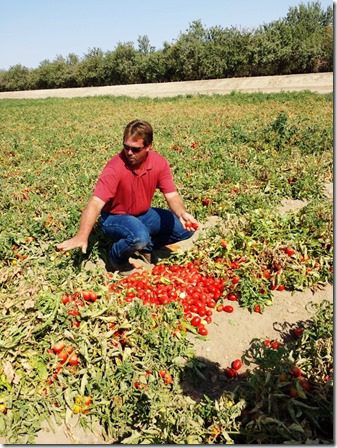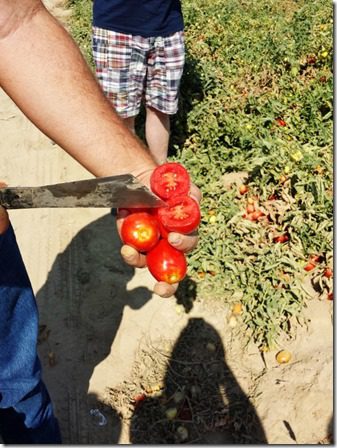 We tasted a few different kinds and compared the color, juice, flesh and flavor. It's so interesting how one fruit can be so different!
I am quite the salsa dancer lover, so I really enjoyed learning about what goes into making a massive amount of the good stuff!
The tomatoes are grown in California and the salsa processing factory is in Oceanside, CA! So, they are a local company to me, love that.
Bonus: The farm also had almonds and Joe grabbed us from straight from the tree to taste!
After the tour we had a quick break back at the hotel and that's when I was able to check in and say hello yesterday.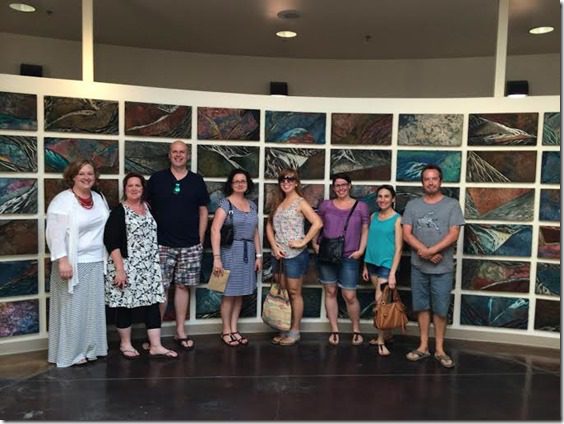 Then, we had a meeting to learn more about the products and what's coming next.
Break time!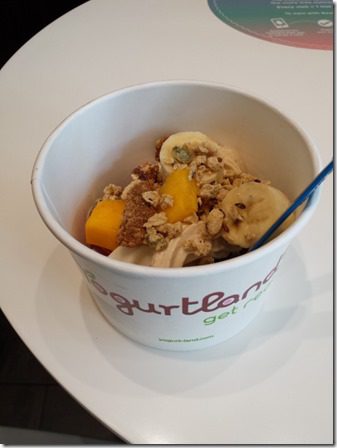 We headed to a museum from there. Here's the whole gang!
And of course dinner featured one of the most popular flavors of Sabra Salsa – Mango Peach. It was served on top of sesame crusted ahi. So fancy!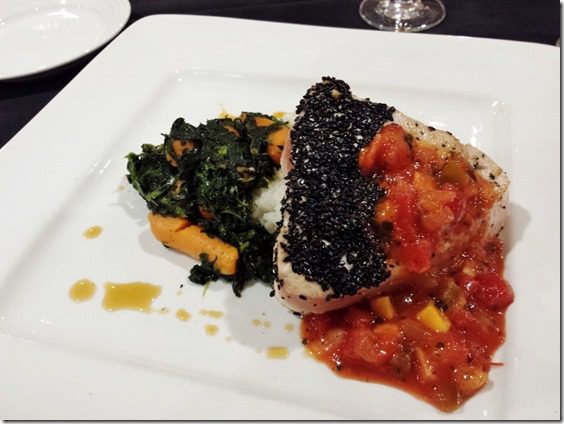 I'm normally not big on raw fish, but this delicious.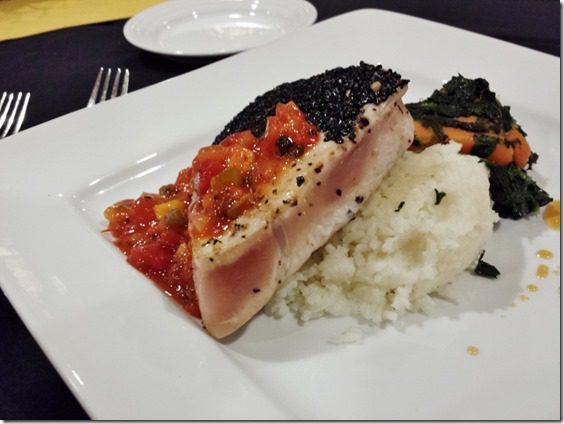 Dessert was house made truffles. Amazing.
And you might notice I had coffee with dessert. I normally do not have coffee in the afternoon or evening, but I wanted to stay up and drive home after dinner. I wasn't sure if I was going to until the very last minute. I thought I would beat traffic back and have all of Friday to get work done (I'm very behind on a few projects). Well, I got home at 1am and am fading fast here. So tired. I'll see ya later!
Fun fact: Sabra's tomatoes are so awesome because the farmers sing to the
Check out SabraSalsaLove.com for more fun stuff (coupons and sweepstakes).
Question: Do you like Mild, Medium or HOT salsa?
Run SMART Goals
Fill out this form to get the SMART Running Goals worksheet to your inbox!