Hello! How's your week going?
Over here I spent some quality time with my fam yesterday, but first…
I went for a run this morning sporting my new clips. I use clips every day to pin my bangs back during runs or when they bug me. They never match and I always lose them. 84% of the time I'm wearing the oldest rusty ones too – for some reason I don't lose the tragic ones! #Fail
But for a whole day I have matching clips and it's exciting.
After my run I made a super quick protein shake to snack on something while I had a conference call. Then, I made 'real' breakfast.
Yesterday I headed to my fam's house to help my mom give the dogs a bath. It's a two person job with these beasts!
But I had to raid the fridge first. My mom has the best stuff. Including, but not limited to: trail mix, hummus, tuna, chocolate. <- I eat all those things and wonder why my stomach hurts.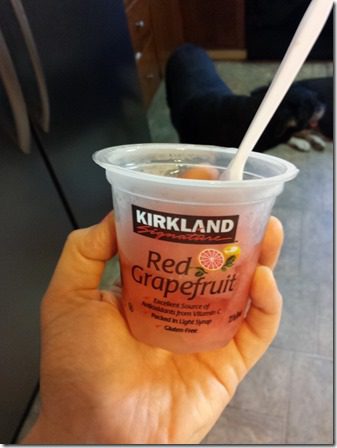 Then, it was time to tackle the perros. I asked my brother to take pictures of the craziness – it's funny to see us desperately hold on to them. And I wanted text a picture to my other brother since that's our thing.
But little brothers are boogers and he thought it would be funny to take 100 selfies on my phone.
He didn't realize that big sisters are also boogers and I am posting this ish on the internet to get back at him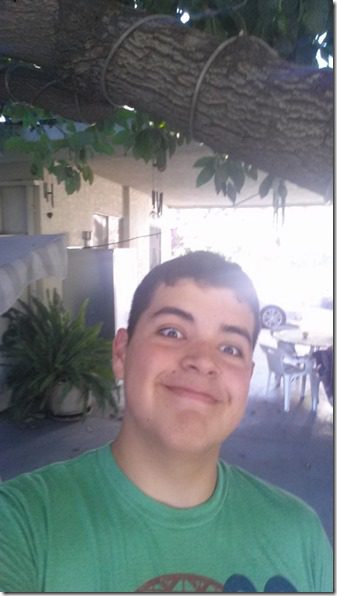 Matt, get your selfie game together.
Then, I was playing with the dogs in the yard and asked him to take a legit pic…
and they ran away.
How sad, not even my dogs like me…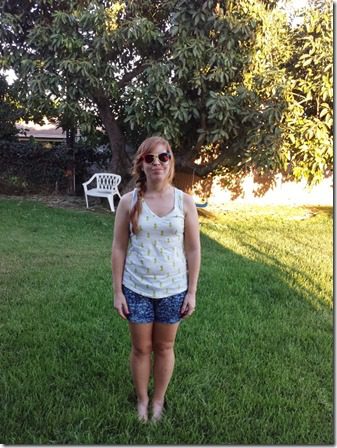 Okay sometimes they do.
We like animals.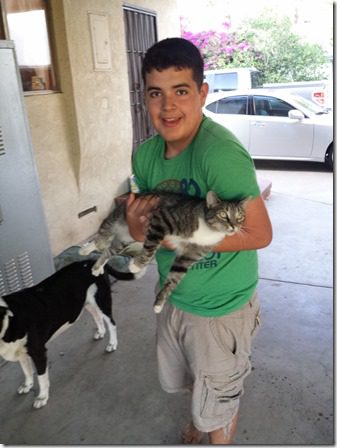 This Is the Best Recipe of My Life
Today's meals included the best recipe of my life…
To make: Fill a bowl with cereal. Pour milk over it. Top with CHOCOLATE SYRUP. Eat.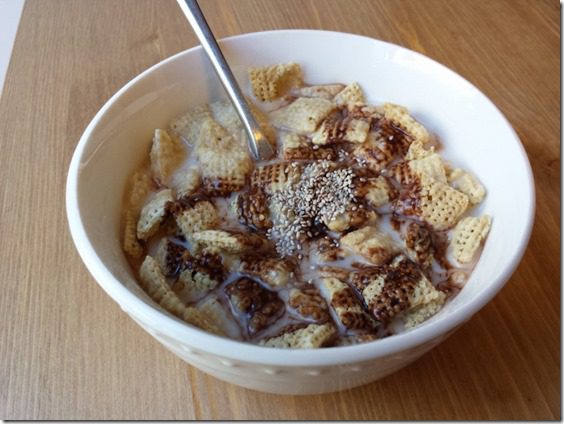 And that's why this is a quality f-ing food blog. You won't find that shit on Martha Stewart dot com.
You're welcome.
During the last Spreadshirt Sale I bought a bunch of different things to try them out. (I have to buy the gear too since the company is just a third party I work with to make the stuff because I can't do it directly right now.)
This is the Women's Premium Tank in large. The Flowy Tank I was wearing in the other day is a medium.
Discount: Spend $30 or more and get 20% off with code SUMMER14 ( Canadian code: SUMMER14CAD )
Question: Do you consider yourself an 'animal person' or specifically a dog or cat person?
Are you going to try my recipe?
Run SMART Goals
Fill out this form to get the SMART Running Goals worksheet to your inbox!