Hello! How are you? I want to check in with some pictures and fun from my weekend. But first I want to wish my brother a huge huge huge HAPPY BIRTHDAY! He is one of my favorite people in the world (I'd say top 5 favorites!). Growing up with red hair in lil Mexico was not always easy, I'm very grateful I was able to share the teasing and weirdness with him.
I even got him a special birthday card for red heads!
Okay – I bought this birthday card years ago and forgot about it (read: lost it under a pile of crap because I'm the worst). But I found it while I was cleaning after the painters were here and I put it aside to give to my favorite redhead this week. I'm proud of myself for finding it and remembering give it to him.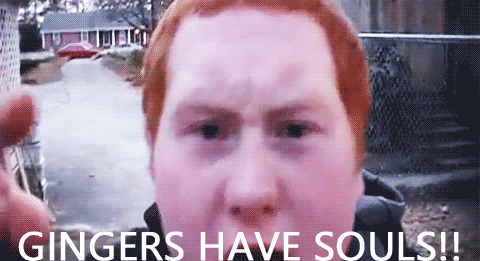 I'm having a drink in his honor to start the celebration!
Okay these were really drinks from Friday night. I said over and over I was only having 1  glass of wine, one, not two one single glass.
Well, I'm bad at that game. And I really regretted it the next morning when I was trying to run.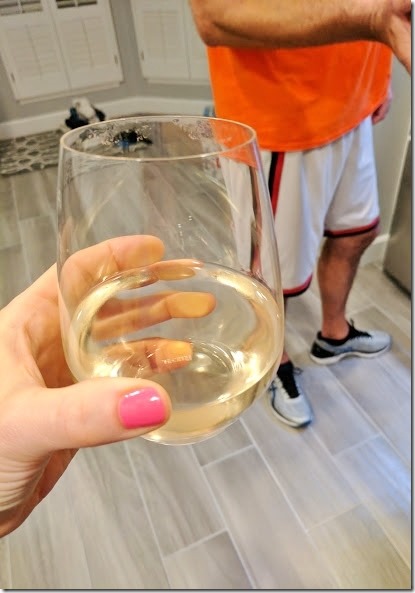 But I managed to drag my sad carcass out to run 10 miles. It's HOT out there!
Random seen on the run: A bunch of golf balls!
A colorful post run breakfast – overnight oats with blueberries, strawberries, banana and those cocoa nibs from Trader Joes.
My sister-in-law's baby shower was this weekend. I was in charge of games and helped with the candy table.
I made white chocolate dipped marshmallows with pink sugar. I just melted the chocolate, dipped it in the pink sugar and put them in the fridge to set.
I also made a PB Chex mix. It was super easy! Just PB, butter, vanilla, Chex and powdered sugar.
We had it catered by Maracas Catering. It is super amazing Mexican food and the customer service was great.
Baby Shower Games
We played the OG "Don't say 'Baby'" game with clothespins.
I saw this "Price is Right"baby shower game on Pinterest.
Speaking of babies… It's Amazon Prime Day  they have a great deal on Baby Registries:
Baby Registry – $100 credit towards diapers and wipes
And my outfit of the day was this super on trend watermelon dress.
It's Amazon Prime Day –  with new deals for Amazon Prime members available as often as every five minutes.
These deals are for Prime Members – so take advantage if you are one!
You can sign up for Amazon Prime here.  You get FREE shipping on millions of items on Amazon, access to movies and music. Discounts on services like their restaurant and pantry delivery and so much more. I think the free shipping alone saves a lot of money over a year.
Prime Day 2017 – 30 Hours of Deals
Get 4 months of Amazon Music Unlimited for $0.99
Prime Members get 40% off Audible Membership from June 29, 2017 through July 11, 2017
Shop Amazon – Most Wished For Items
Question: Do you have a sibling? Is it their birthday? 
Either way maybe text to say 'hi' to them 🙂
Note: Sometimes I use Amazon affiliate links to help support RER. The prices are the same for you, but it really helps keep this up and RUNNING. Get it? Running! Let's go 🙂 
Don't Miss the Good Stuff
Subscribe now to get the latest blogs, podcasts, recipes and more straight to your email!
Run SMART Goals
Fill out this form to get the SMART Running Goals worksheet to your inbox!