Hello! How's it going? Hope you're safe. All the hurricane devastation from Harvey and now in Florida is sad and scary. Praying for everyone affected.
I've had a very busy week! And I learned a lot along the way. This is what I learned this week…
1. Running with music (and when I know I have an early appointment) makes me run faster!
2. Running in the heat makes me run slower.
3. I eat mangoes right after cutting it, standing over the counter like a savage. This one is from earlier today, but I also cut one at my parents' house and my brother walked in the kitchen and said I was an animal. I am. And I don't care, I love it.
4. When you're on Day 196 of a heat wave in southern California (give or take, I haven't kept accurate count) smoothies are amazing for breakfast and snacks and post-lunch dessert.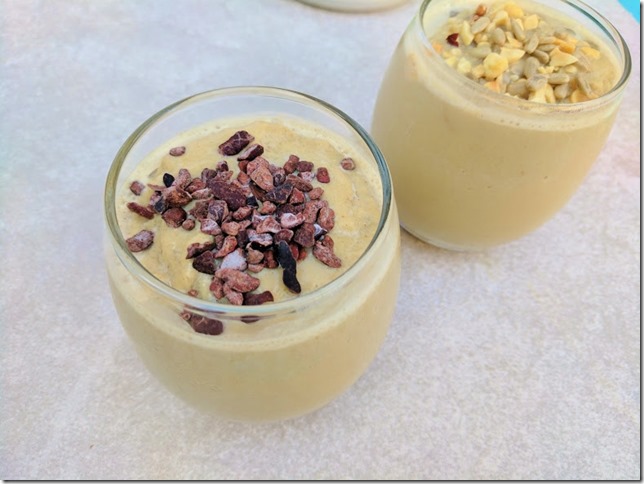 5. The closest Drive-Thru Starbucks opens at 4:30am.
6. Ocean air has stress relieving properties. I always feel so much better after a few deep breaths at the beach.
7. I didn't really learn anything with this salad… but I did fill it up with tons of veggies. The protein is on the bottom.
8. Sweaty Betty sent me a pair of their leggings from way across the world aka anywhere not California aka in this specific instance – London.
I learned… I can wear leggings with a pattern!
Yes, I knew I technically could wear any leggings before but I NEVER do. I'm super hesitant to wear leggings with a pattern because it calls attention to my butt and thighs – which makes me self-conscious. But since the lovely Sweaty Betty team sent me these I really wanted to give them a test run.
And you know what? I was fine. I didn't care half as much as I thought I would. Actually I didn't care at all!
I had this idea that I'd be super uncomfortable if I ever wore colorful or patterned yoga pants or leggings. It was really no big deal. These are a little tight and I probably should go up a size – so there's that. But I wasn't worried about what I looked like or what people thought at all.
I usually don't worry about what people think about how I look and mostly just didn't want to put myself in a position where that was relevant to my life. I think it's important to protect your mental health and body image. And if that means avoiding triggering or negative situations – do what's best for you.
Update and reminder: I had a gyno appointment yesterday. Since I tested for HPV I've had to go more often to make sure it didn't come back.
At first I was going every 3 months. But since I tested negative for HPV for a few visits in a row – I'm back to a yearly exam. It's not fun but it's really not a big deal either. It doesn't hurt. It's not awkward. It's over pretty quick.
So, here's a little PSA to take care of your body and schedule your check-up today if you haven't had one this year. I should also do a full physical soon – so this is a reminder to me too!
Here's another post on a follow up appointment
Question: What did you learn this week?
Run SMART Goals
Fill out this form to get the SMART Running Goals worksheet to your inbox!