Podcast: Play in new window | Download
Subscribe: Apple Podcasts | Android | Google Play | Stitcher | RSS
---
Day 3!   Friday  –  It's National Sandwich Day!!
Quick Quiz: How many PB&J sandwiches does the average American eat in their lifetime?
The 4th Earl of Sandwich was born on this day in 1718 . The Earl invented the sandwich as a quick meal during a marathon gambling session.
Motivation / Quote:
"Progress is rarely a straight line. There are always bumps in the road, but you can make the choice to keep looking ahead." – Kara Goucher
My workout / Personal Update – I'm doing a longer run this week on Friday because I have a busy weekend. Wish me luck!!
RER Runner Tip: Pam –> @pammyruns
You can give another runner ONE tip. What is it?
Consistency is everything!
What do you do when you feel like quitting? Have a mantra? Trick? Other??
Visualize the finish line & run the mile you're in. Think about how many miles you've run vs how many more miles you have left to go.
What's your secret to staying motivated?
Sign up for races to keep yourself accountable to your training.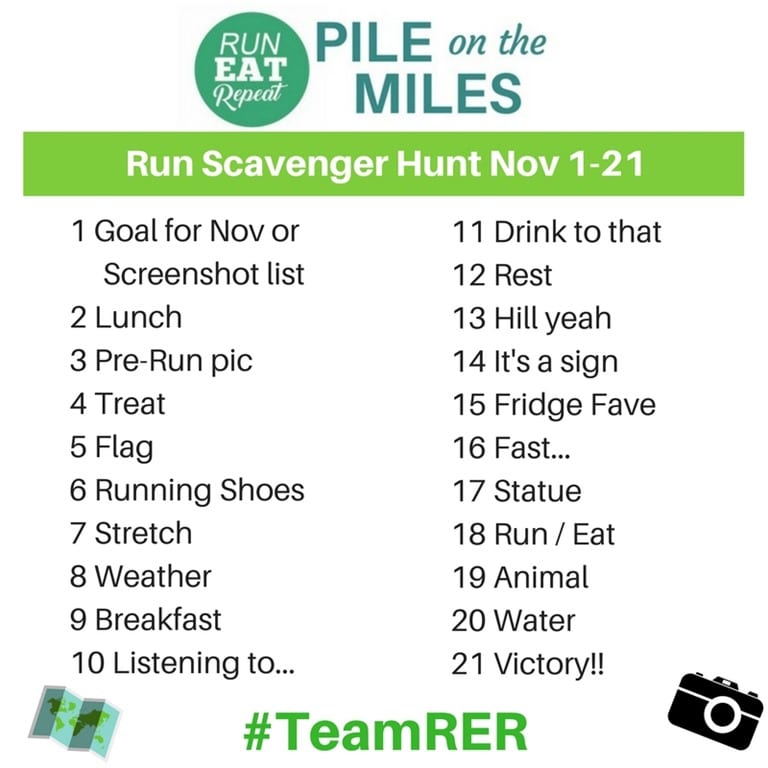 Instagram Runner Scavenger Hunt for today… LUNCH
It's National Sandwich Day!!  survey reveals average American will eat nearly 3,000 PB&J sandwiches in their lifetime
According to a survey of 1,000 people from across the country by Peter Pan Simply Ground Peanut Butter, four years and two months is the average age when children first experience the wonderment of PB&J. And the passion doesn't stop. The average adult consumes three PB&J sandwiches every month. Nearly half of Americans regularly eat PB&J sandwiches, according to the survey.
Fifty-three percent say exactly half peanut butter and half jelly is the perfect ratio for a sandwich.
Fifty-nine percent prefer the creamy over crunchy texture of peanut butter. Grape flavored jelly makes for America's favorite mix of PB&J. (source)
Day 3 Check in! What are you doing today? 
Run SMART Goals
Fill out this form to get the SMART Running Goals worksheet to your inbox!