The universe is determined to deny me of sleep because my trip to the airport didn't get me home until after 11pm. Then, I felt the need to blog. It was late.
This morning I woke up tired, but knew I had to get it together and start my day. I went to the kitchen, grabbed a piece of bread and slathered on some jam. As I was about to grab another I decided to just make breakfast and do my run later. Deal.
French toast with PB and sf syrup. The most decadent tasting breakfast under 400 calories. Love.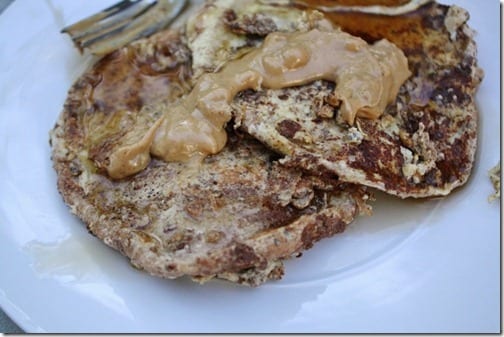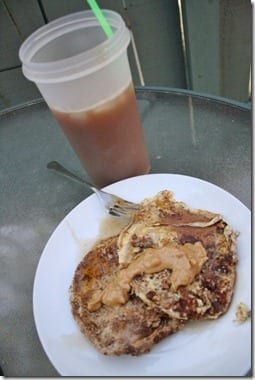 Even though I didn't end up running the OC Half Marathon, I am still going to sport my race shirt. Hey, I paid $70 for it! (My finger is covering up the dot of syrup I spilled on myself. Classy, I know.)
I love when races have sex specific tees. Thank you.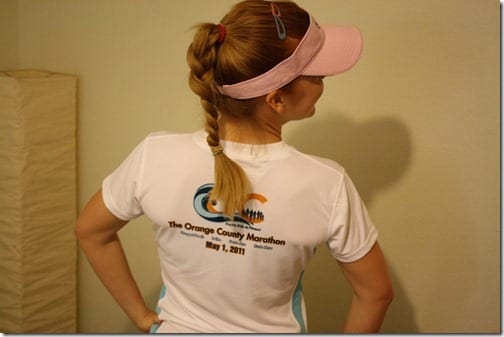 Amanda and I were talking yesterday about our upcoming Summer Plans. We both have big vacations coming up and want to announce our goals and plans to be held accountable. (Plus, I got a lot of questions about it yesterday when I said I wanted to lose 5 pounds this month.)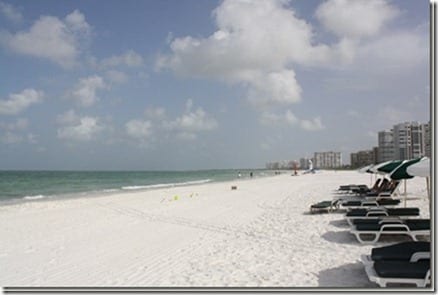 Ben's family has a time share in southern FL for the beginning of June. And every year I cling to my cover up like it is the only thing keeping me alive.
Well, this year I want to feel better about myself and I've come up with a
Summer's Coming Challenge!
5 Week Challenge – Today until June 8th
The Goals:
Lose a few pounds

Get fitter and faster

End my worst habit:  Snacking and Night time eating
The Plan:
Food: Count Calories for the next 5 weeks (hopefully, I'll have a good idea of what I eat after that and won't need to do this any more). I am aiming for about 1800 a day. Stay away from the kitchen after dinner like it's el diablo.
Exercise: 2 days of hard running, 2 days with group, 2 classes at gym or strength sessions each week.
I'll keep my progress to the Weight Loss page so you don't have to see it if it bothers you. And I promise I'll update it once a week (I've been bad about this) until June 8th. *Yes, I realize this isn't I.E. and I don't really care. I'm doing my thing right now and I'm 100% at peace with it.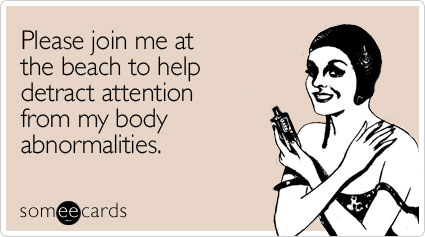 Question: When was the last time you went to the beach?
I don't count the times I go to run, so a real "beach day" was a long time ago
I am posting about my new job today – please leave any questions in the comments or email them.
Run SMART Goals
Fill out this form to get the SMART Running Goals worksheet to your inbox!