Hello! This week I'm working with General Mills Big G Cereals  to share how you can eat more whole grains in a super easy and delicious way. I have 5 different ways to eat cereal you can use for breakfast meal prep or just snack ideas for the week.
September is National Whole Grains Month. Put yourself first with #ButFirstWholeGrain by adding whole grain to your diet, including adding your favorite General Mills Big G Cereals with whole grain as the first ingredient. The daily recommended amount is 48 grams of whole grain. Do you get that much most of the time?
I think I do! But I want to double check a little more officially so I'm going to track it this week to see what I'm eating and what I might be lacking.
My personal favorite bowl of cereal is … putting a little (okay, a lot!) of a bunch of different kinds.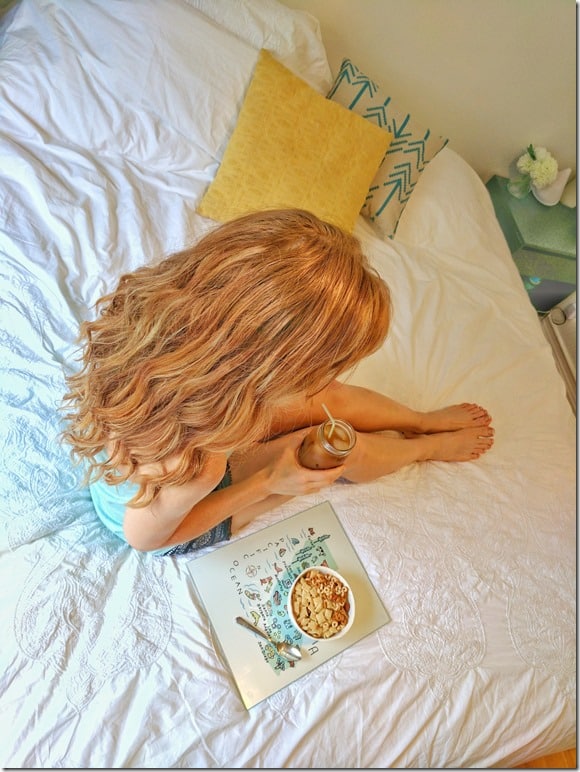 I eat dry cereal before runs a few days a week. It's super easy to snack on it with iced coffee while I get ready to head out. And when I'm out of town or driving somewhere to run I bring it along in a baggie. Ready to eat cereal is one of the easies ways to get whole grains.
I'm in meal prep mode today! And since breakfast is the most important meal of the day (and most delicious meal of the day) I have 5 super easy and delicious ways to enjoy cereal this week.
Whole Grain Cereal 5 Ways
Cereal, Banana and PB are meant to be together. They're all great breakfast foods. And you can make these Crunchy PB Banana Pops for a quick breakfast OR freeze them for a cold treat.
Crunchy PB Banana Pops
1 banana
2 Tb. peanut butter
1/2 cup Chocolate Chex
Directions: Roughly crush cereal.  Cut banana in half. Place stick in each half. Slather with PB. Roll in cereal. Enjoy!
I made an extra one and froze it. I had that one for dessert last night and it was delicious!
Crunchy Apple Rings
Ingredients: Apple / Peanut Butter / Honey Nut Cheerios
How to make: Slice apple (leave the core). Slather with PB. Top with your favorite cereal with whole grain.
Tip: This is a fun one to make with kids. Let them top with PB and put on the cereal.
This looks like a decadent dessert but banana, Greek yogurt and whole grain cereal combine to make a super quick and healthy breakfast.

Healthy Banana Split with Greek yogurt and cereal
Ingredients: Banana,  6 oz strawberry Greek yogurt (or your favorite flavor) & Cereal with whole grain
Directions: Slice banana lengthwise down the center. Carefully top with Greek yogurt, chopped fruit and cereal.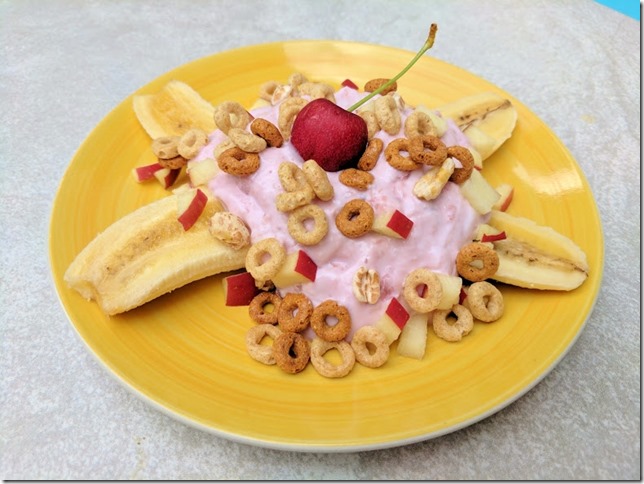 I love trail mix! But I'm rarely on a trail. And I'm a volume eater so I can eat buckets of it! So I put together this super cereal trail mix that is packed with whole grains, fiber, protein and healthy fats to satisfy all my taste buddies.
Super Cereal Trail Mix
Ingredients: 4 cups Honey Nut Cheerios / 1 cup almonds  / 1 cup goji berries / 1 cup roasted chickpeas / 1/2 cup cacao nibs
How to make it: Combine all the ingredients (taking special care to not eat half of them in the process) in an air-tight container. Gently roll around container to mix.
Why I used each ingredient…
Whole Grain cereal – choose a cereal with whole grain as the first ingredient (i.e. whole wheat, brown rice, oats, barley, corn..)
Almonds – Almonds are high in monounsaturated fats which are believed to reduce the risk of heart disease. They're also high in vitamin E and potassium.
Goji Berries – These have been used in Chinese medicine for centuries. They are packed with antioxidants which can help fight off cancer.
Chickpeas – Beans add protein, fiber and iron to help keep you full longer.
Cacao Nibs – Every trail mix needs chocolate, it's science. This fulfills the happiness requirement for your snack.
Tip: If you are tracking portion size – make the trail mix in individual containers to measure as you go.
I put 1/4 cup cereal and 2 Tb. nuts, dried fruit, seeds… and whatever else you want into small containers.
Friday should be FUN and that includes food. Save this colorful smoothie recipe for Fridays or top your usual protein shake or yogurt with Lucky Charms for a super delicious but weekend welcoming breakfast.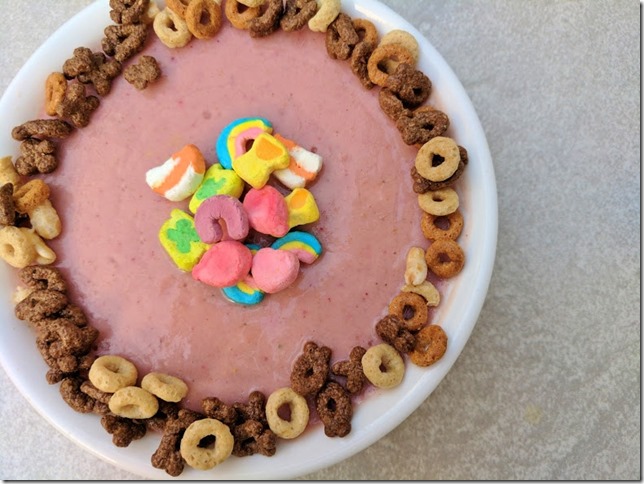 Cereal Smoothie
Ingredients: Frozen banana, Vanilla protein powder, 1 cup milk, ice  – and cereal with whole grain for the top
Directions: Blend banana, protein powder, milk and ice. Pour into a bowl. Top with cereal. Enjoy!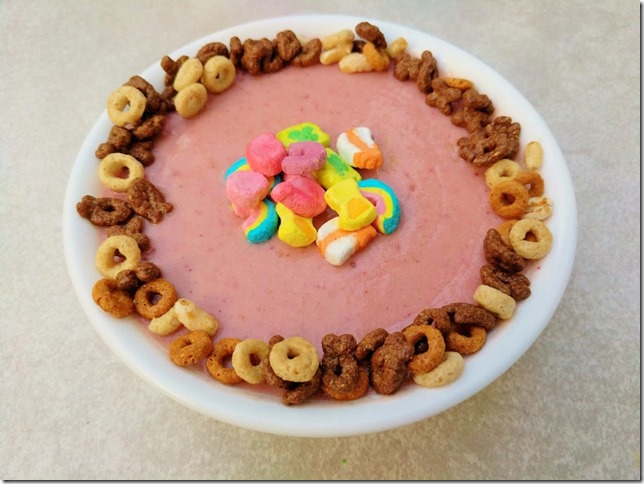 Follow along on Instagram and twitter this week for more ideas and fun ideas with hashtag  #ButFirstWholeGrains
Question: But first… what is the first thing you ate today?
Disclaimer: This post is sponsored by General Mills Big G Cereals in celebration of their #ButFirstWholeGrain Challenge. All opinions are my own.