1. Q: When did you start running?
A: I started running over 5 years ago! Once I found running I became an addict overnight.
I started walking after high school in an effort to lose weight. I would take walks with my friend or my mom and when they weren't around I would walk on my grandma's treadmill. I loved walking and eventually bought my own treadmill that I kept in my room. I walked for a few months until I got bored of walking and tried running for a bit. Soon I was walking and running on the 'mill before school (college) and work (Starbucks). Before I knew it I was running 5 days a week for 60 minutes at a time!
After about a year of running on the treadmill I tried a run outside and fell in love. A 10k, then many many half marathons would soon follow.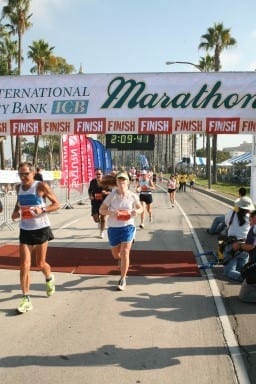 2. Q: I am a new runner – do you have any tips?
A:I have tons of tips! If you have a specific question please email me – runeatrepeat@gmail.com
But here are some general tips for new runners…
Don't expect it to be easy, and don't get discouraged when it's hard. Running is difficult, be proud of what you can do.
The second you feel an injury or that "something is off' – STOP RUNNING. Finishing this run is not worth being out of commission for 6 weeks.
Start off slow and find your comfortable pace. A common running mistake is starting out too fast and burning yourself out.
Fuel properly – eat well before and after your runs. Make sure to eat within approx. 30 minutes after a hard run.
Enjoy running – if it's not fun you won't stick with it!
Also, check out my Training Schedule page for training program suggestions.
3. Q: Does Ben run with you?
A: Sadly, no. I actually run by myself most of the time but Ben has agreed to run a 5k with me so we are going to start training soon!
4. Q: What do  you tell yourself to motivate you to run or keep going?
A: I have some quotes that I love to say to myself while running.
One of them is from an old Nike ad I held onto for years.
And this newer Nike ad that I also became obsessed with.
5. Q: Do you eat before your morning runs?
A: On long runs – Yes, always. On shorter runs – Not always.
During the week runs of 4 to 7 miles I don't have a full snack. I may grab a handful of cereal or fruit. (If I'm hungry then I would definitely eat more.)
Longer runs of 8 or more miles I will usually eat PB toast or something similar.
Run SMART Goals
Fill out this form to get the SMART Running Goals worksheet to your inbox!